The Portuguese Menu: fish, coriander and fantasy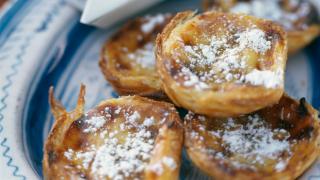 Portugal by... Condé Nast Traveler

Portugal faces the Atlantic, smells of the Atlantic, breathes the Atlantic, has an Atlantic soul... but its cuisine is more Mediterranean than it seems. A paradox! The three essentials of the Portuguese diet are wheat (delicious bread), wine (wonderful reds and whites) and olive oil (very aromatic), called the "Mediterranean triad", which suggests a strong bond with its neighbours to the east.

The Portuguese love olives; they eat a lot of cheese and use sautéed onion and garlic as the basis of almost all their dishes. All very Mediterranean customs. However, coriander is the national aromatic herb. Ginger and chillies give an exotic touch to some of the dishes, such as the popular "piri-piri" chicken, garnished with a chilli sauce which also goes perfectly with barbecued fish. Across the country, it is known as "frango da Guia" (charcoal-grilled chicken), its fame being traditionally associated with a restaurant in the Algarve.

If we were to define a Portuguese menu - no easy task because there are so many specialties to choose from – the following dishes could not be left out. And take care in ordering these delicacies in restaurants because the servings are all XXL size.

Starters, to whet your appetite
Cheese, olives, butter and olive oil
The cheese might be from Serra da Estrela, creamy sheep's cheese that is shaped and wrapped in a cloth while it's fresh. The result is a tasty cheese with a slightly acidic-bitter aftertaste. Or the famous São Jorge cheese, produced in the Azores from cow's milk, with a strong aroma and slightly spicy flavour. Or Castelo Branco, a soft cheese from cow's milk, fat and heavy. The three are denomination of origin protected, but there are other equally interesting and delicious cheeses.
Green or black olives are almost always served seasoned, and it is customary to use them in the kitchen as another ingredient.
Portuguese butter is of great quality, as generally are all dairy products made in the country. Spread on bread, which is fantastic particularly in the northern regions, it is a real treat.
It's the same with olive oil, one of the products - along with the wines - that Portugal exports. There are 7 regions with the DO classification: "Olive Oil from Moura", "Olive Oil from Trás-os-Montes", "Ribatejo Olive Oil", "Olive Oil from North Alentejo", "Beira Alta Olive Oil", "Olive Oil from Beira Baixa" and "Alentejo Interior Olive Oil".

Main course, to begin
Soup is a mainstay of the Portuguese dinner table. The best known of all is probably "caldo verde" (cabbage soup), considered the national Portuguese dish, actually more common in the home than cod. It is made with potatoes, onions, garlic, olive oil, chorizo and "couve-galega" (kale). Another excellent choice is fish soup, which is prepared differently in every coastal town, and therein lies its charm.

Fish
The Portuguese are big fish-eaters – they love it. More than 80 different varieties are caught off its coast, including clams and mussels, but the star is cod, which comes to us from the North Atlantic rather than Portuguese waters. It can be cooked a hundred different ways. The most popular recipes are: Bacalhau à Brás, or dourado (golden), (with chips and eggs); Bacalhau à Gomes de Sá (in the oven with boiled potatoes and boiled egg); Bacalhau com Natas (cooked in cream) and pataniscas (fried cod cakes).
Sardines and red mullet are favourites amongst Lisbonites, while octopus is a great weakness throughout the country. In the south, kebabs, for which the fish is cut into chunks for roasting on the barbecue, are very popular.

Meat
Inland, pork is the mainstay of the kitchen. It is used from the north to the south. Every part of the pig is used, from snout to tail, either fresh or in cured sausages.
The best of the Iberian pig breed are raised in the Alentejo hills, and fed on acorns. That's why the most popular dish is carne de porco à alentejana (stewed pork with clams and potatoes), a delicacy from "sea and mountain", which clearly displays the Portuguese affection for seafood. Another very popular dish, especially in central Portugal, is roast suckling pig from Bairrada.

Dessert, for sheer indulgence
The choice for this course is very complicated. The Portuguese have a very sweet tooth, and the country's pastries are both varied and excellent.
Undoubtedly the most popular are the pastéis de nata from Belém: small pastries filled with custard and slightly toasted. No less delightful are the queijadas from Sintra, with a pinch of salt; the ovos-moles (egg paste) from Aveiro; the Abade de Priscos crème caramel typical of Braga; and fig cheese, a dessert of figs and nuts that has not the slightest trace of cheese, despite the name.

If you prefer an exclusive dish…
The bouillabaisses from the north and the cataplanas from the south are healthy, substantial fish and vegetables dishes.

Time for a contemporary cuisine
Alongside the popular cuisine linked to the tradition and the land, a group of young chefs has been trying to put Portugal on the map of contemporary cuisine. Among these, the best known are José Avillez, probably the best Portuguese chef at the moment, and Leonel Pereira.

Although the international guidebooks highlight the best hotel kitchens, especially in the Algarve, it is in Lisbon and Porto that the battle for contemporary cuisine is being waged. Names like Enrique Mouro (Assinatura), Luís Américo (Mesa), Ricardo Costa (Yeatman), Rui Paula (DOC) and Victor Sobral (Tasca da Esquina) are responsible for revitalising Portuguese cuisine.

These are the addresses of the restaurants where you can taste the best of contemporary Portuguese cuisine, cooked by today's great chefs:

Belcanto
Largo de São Carlos, 10, Lisbon. Tel: 213 420 607. belcanto.pt Average price: €60.
Modern, daring, charismatic cuisine by José Avillez, a flagship site in the Chiado neighbourhood that has been completely renovated. A place to share culinary magic and concerns.

Cantinho do Avillez
Rua dos Duques de Bragança, 7, Lisbon. Tel: 211 992 369. Average price: €30
Chef José Avillez's more informal restaurant. Dishes based on traditional Portuguese cuisine. Perfect for getting to know Portuguese cuisine that is always well made.

Assinatura
Rua Vale Pereiro, 19, Lisbon. Tel: 213 867 696 www.assinatura.com.pt Average price: €45.
Modern cuisine by chef Enrique Mouro. The menu includes classic and contemporary choices and focuses on integration.

Tasca da Esquina
Rua Domingos Sequeira, 41 C, Campo de Ourique, Lisbon. 210 993 939. www.tascadaesquina.com Preço médio: 30€.
Charming house with a contemporary kitchen where you can enjoy some delicious dishes based on traditional cuisine by chef Victor Sobral.

Mesa
Rua Domingos Pinto Brandão, 75 – 4º Andar, Porto. 226 169 255. www.amesa.pt. Average price €50.
The young chef Luís Américo focuses on a regional cuisine with a modern dressing in this restaurant of contemporary classic dishes.

The Yeatman
Rua do Choupelo (Sta. Marinha), Vila Nova de Gaia. Tel: +351 220 133 100. www.the-yeatman-hotel.com Average price €80. Express menu €38 (lunch only)
Creative cuisine signed by Ricardo Costa inspired by regional Portuguese recipes and interpreting them in an original way.

Doc
Estrada Nacional, 222, Folgosa- Armamar, Régua. Tel: 254 858 123 http://ruipaula.com. Average price €50.
Chef Rui Paula applies modern cooking techniques to regional products, reviving local recipes. The menu swings between tradition and modernity.

Alma
Calçada Marquês de Abrantes, 92/94, Lisbon. Tel: 213 963 527. www.alma.co.pt Average price €35.
Henrique Sá Pessoa revives traditional cuisine in this exquisite place.


---