In the country of tiles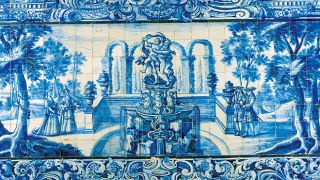 You can't miss them, wherever you are in Portugal. Tiles travel across all-time styles and languages and fill any pavement or visit with colour.

Al-zuleique is the Arabic word that became the Portuguese azulejo (tile) and referred to the "small, smooth stone" used by Muslims in the Middle Ages. Their use of tiles to decorate floors and walls pleased the Portuguese Kings and subsequently won pride of place in architecture from the 15th century. We could say that Portugal adopted them in an unparalleled way, like no other European country.

It was in the 18th century that tiles "invaded" churches and convents, palaces and homes, gardens, fountains and staircases. With geometric patterns, telling the life stories of saints or depicting profane themes, such as La Fontaine's fables, sometimes with captions like an old version of a cartoon, they became one of the main features of Portuguese decoration.

Travelling across the country is like visiting a living museum of tiles, but it is in the National Tile Museum in Lisbon that you can get to know, like nowhere else, their history and artistic and technical evolution, from early times to modern-day production.
---