Museu Luso-Hebraico de Abraham Zacuto - Sinagoga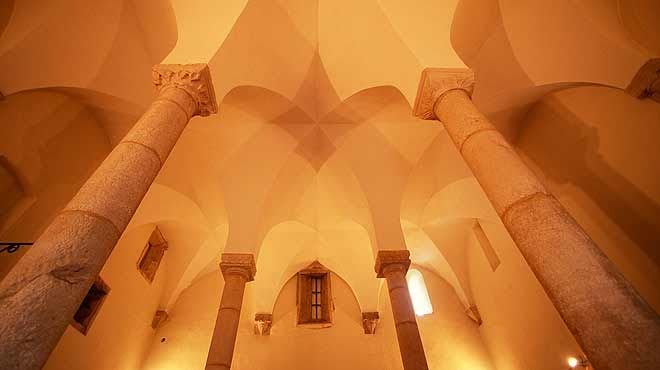 Museu Luso-Hebraico de Abraham Zacuto - Sinagoga
With a very discreet façade, like nearly all Jewish places of worship in the Christian world, the interior of the little synagogue in Tomar is a surprise. The roof is supported by 4 columns representing the mothers of Israel: Sarah, Rachel, Rebecca and Leah. The columns are linked by 12 arches, symbolising the 12 tribes of Israel. There are four terracotta jars in the corners that serve as amplifiers.

The temple was commissioned by Infante D. Henrique, Henry the Navigator, for whom the Jewish community financed part of the Discoveries project.

With the expulsion of the Jews from Portugal in 1496, the synagogue was closed down. It was then used for various purposes until 1920, when it was bought by Dr. Samuel Schwarz, who donated it to the State, on the condition that the Museu Luso-Hebraico was installed there. Various precious objects related to Judaism are on display.
Contacts
Address:
Rua Dr. Joaquim Jacinto, 73   
2300-577 Tomar
Telephone:
+351 249 329 814
October / June: 10am - 1pm / 2pm - 6pm (everyday) July / September: 10am - 1pm / 2pm - 7pm (everyday) Closed: 1 January, Easter Sunday, 1 May and 25 December
Accessible circulation inside:
---