Citânia de Briteiros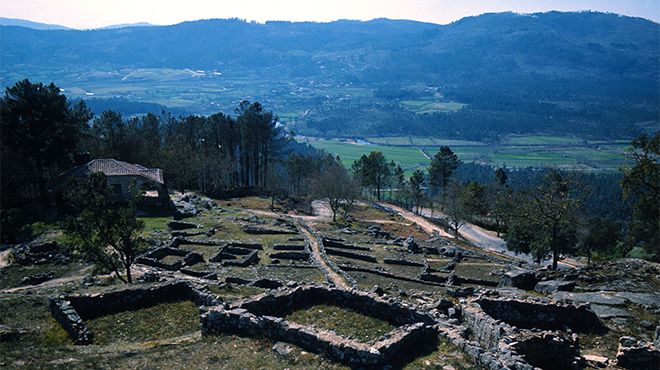 Citânia de Briteiros
After the 2nd millennium BC, the northwest of the Iberian Peninsula was settled by human communities organised into tribes, which inhabited high locations named "castros". Due to the similarity of the settlers' buildings in various different sites, a "castro culture" can be said to have developed in this area, from the Portuguese Minho to Galicia and the Spanish Asturias, reaching its climax in the 2nd century BC. The Citânia de Briteiros is one of the most important examples of this culture.

The fact that these citânias were located on hilltops enabled the inhabitants to defend themselves better from intruders and to observe the movements of outsiders. This explains why, notwithstanding the Roman occupation, some of them only disappeared in the 5th century AD, when the Peninsula was invaded by peoples from Northern Europe.

Situated a few kilometres from Guimarães on the São Romão hilltop, overlooking the magnificent River Ave valley, Citânia de Briteiros will surprise the visitor with its scenic beauty and the ruins left by our protohistoric ancestors. There are clear traces of the incipient organisation of a "city" in the network of lanes protected by walls, within which stood the round or rectangular dwellings, sometimes laid out in small  "blocks", including shelters for cattle. One of the Citânia's most important monuments was discovered in 1930, when the road leading to the hill was opened. This is a cremation furnace, the front of which consists of a pentagonal stele on which two swastikas with curved arms are carved; there is a semicircular opening for the body to pass through.

The first scientific studies of the site were conducted by Dr. Francisco Martins Sarmento, who in 1875 began his collection of several important remains, which he deposited in the Sociedade Martins Sarmento Museum in Guimarães.
Contacts
Address:
Monte de São Romão  
4800 Guimarães
---