Sinagoga Kadoorie Mekor Haim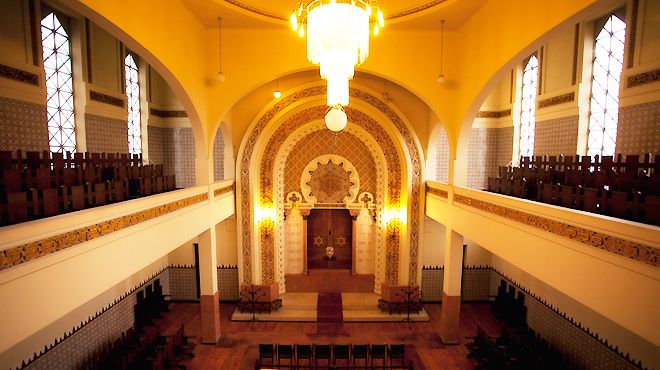 Sinagoga Kadoorie Mekor Haim
The Kadoorie Mekor Haim Synagogue is the largest Synagogue in the Iberian Peninsula and one of the largest in Europe. Built with donations from Jews from all over the world, it was inaugurated in 1938, at a time when Synagogues were being burned in Germany.

This Synagogue is a singular architectural monument, and one of the most extraordinary places of Jewish worship in the world. It is also the headquarters and "heart" of the Jewish Community of Oporto, which was founded in 1923 by Captain Barros Basto, who became known in the Jewish world for trying to rescue the descendants of the Jews who were forced to convert in the 15th century and who continued to practice, in secret, certain precepts of the Jewish religion.

The Synagogue is open for individual and group visits, providing information about its history and architecture, as well as about the Jewish Community of Oporto over the centuries to the present day. On the first floor of the Synagogue, one can visit the rooms where the most significant historical objects and documents are kept and displayed. Guided tours of the Synagogue are available through its Department of Tourism with Portuguese, English, Hebrew and Russian speaking guides.
Contacts
Address:
Rua de Guerra Junqueiro, 340 4150-386 Porto
Telephone:
+351 911 768 589 / 911 768 596
---