SPA Thalasso Caparica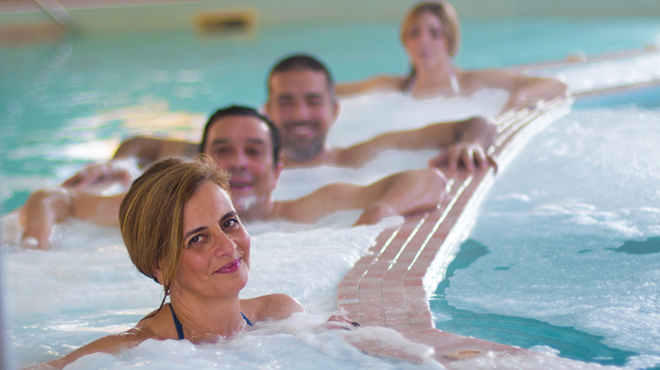 SPA Thalasso Caparica
THERE'S MORE THAN 20 YEARS CARING FOR HEALTH AND WELL-BEING
We provide our clients with wellness and health services - body, mind and soul rehabilitation; differentiating and of extreme quality.
Several services performed with heated sea water, a differentiating and successful element in health and wellness programs, which are complemented by other services - osteopathy, physiotherapy, massages, Thalgo face and body aesthetics, holistic therapies, among others, consonant the need of each person.
15 minutes from Lisbon, with 1000 m2 dedicated to health and well-being.
Come discover the best way to feel healthy and complete!
Contacts
Address:
Av. 1º de Maio nº 25-A  
2825-397 Costa de Caparica
Telephone:
+351 212 905 655
Water type
: Heated Sea Water (Thalassotherapy)
pH level
: 7.8
Water temperature
: 34º - 38º
Medical monitoring
Nutrition monitoring
Aerosols
Seaweed treatments
Marine mud treatment
Turkish saunas
Power showers
Gymnasium
Aquatic gymnastics
Hydro-massage baths
Jacuzzi
Maniluvium
Massage
Seawater swimming pool
Pressure-therapy
Sauna
Beauty treatments
Disabled access
Reception area suitable for people with special needs
Care skills:
Visual impairment
Motor disability
Mental disability
Support products/services available:
Visual impairment
Motor disability
Mental disability
Skin therapies
Digestive tract therapies
Respiratory therapies
Blood circulation therapies
Nervous system therapies
Rheumatic and musculo-skeletal therapies
Metabloic-endocrine system therapies
Rehabilitation programmes
Anti-ageing programmes
Detox programmes
Weight control programmes
Stress management programmes
Beauty programmes
Sports massage
---