Avis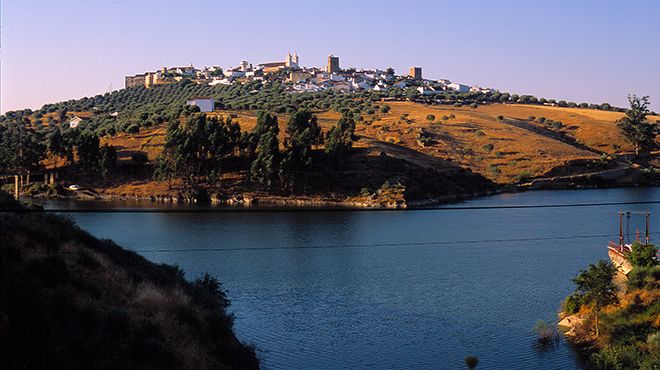 Avis
This picturesque Alentejo town, composed of narrow streets and white limewashed houses, holds within it the memory of the old and powerful Military Order of Avis. After the town had been captured from the Moors in 1211, the land was given by the king Dom Afonso II to Fernando Anes, the Master of the Friars of Évora, the future Order of Avis, with the aim of populating the region and building the castle, which took place between 1214 and 1223. As you walk around the town, you will find three of the castle's six original towers: Torre da Rainha (the Queen's Tower), Torre de Santo António (St. Anthony's Tower) and Torre de São Roque (St. Rock's Tower), as well as some sections of the mediaeval wall that have been incorporated into the town's houses. At the top of the granite hill, surrounded by the water of a nearby river, Avis thus came into being under the protection of the monastery of the order that gave the town its name.

You should enter the central square of Largo do Convento by passing through the gateway of Porta da Vila, next to Torre da Rainha, through which you will see framed a panoramic view of the plain stretching out into the distance before you.

In the town's historic centre, visit the church and outbuildings of the former convent of the Military Order of São Bento de Avis, which have recently been restored. The building next door, now used as the town council offices, was formerly part of the residence of the Masters of the Order. If you make your way to the left, you will find the original pillory in front of the steps leading to the municipal park, decorated with masks and gargoyles. On top of all this is an eagle with its wings outspread, which has become the town's symbol. Also worth a visit is the 15th-century parish church, lined on the inside with 17th-century polychrome azulejos.

Give yourself up to the charm that oozes from these mediaeval narrow streets and the white walls of the typical small Alentejo houses, and rest for a while in the small but delightful Jardim do Mestre de Avis, letting your gaze rest upon the town and the immense plain beneath you.

In the neighbouring area, make sure to visit the reservoir formed by the Maranhão dam, dating from the 1950s and designed to provide irrigation for the surrounding region, where you can also engage in a number of different sports. The viewing point by the dam allows you to enjoy a magnificent view over this artificial lake and over the surrounding pastureland and wheatfields.
---