Yellow Bus Sightseeing Tours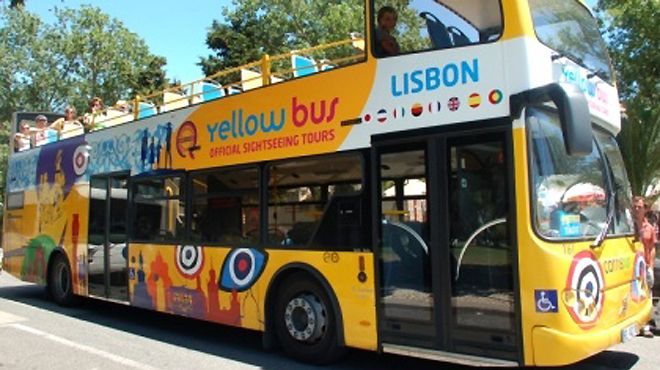 Yellow Bus Sightseeing Tours
Tours and Other Tourism Services
Discover Portugal at 4m height with Yellow Bus Sightseeing Tours operated by Carristur! We are the largest operator of open-top double-decker sightseeing tours in Portugal. The authentic "mobile viewpoints" offer you a unique way to know 5 of the most beautiful Portuguese cities. Enjoy the atmosphere of Lisbon, Porto, Funchal, Braga and Coimbra from a different and original perspective. The buses operate in Hop on Hop off regime with tickets valid for 24 or 48h, usable also in the public transport network. We have special prices for children.

Know the historical Lisbon with Tagus Tour, or "board" onto Olisipo Tour and visit the museums and the modern area of EXPO 98. In Porto, Porto Vintage tour enables you to know: Historical Porto, Porto Bridges and Porto Castles. In Funchal do not miss the views of Yellow and Blue Tour. Let yourself be enchanted with Braga on Bracara Tour and fall in love with the university spirit of Coimbra on Funtastic Coimbra Tour.

Besides these circuits, experience Hills Tramcar Tour, our mini-bus Belém Tour, mini-train tour in the area of Parque das Nações in Lisbon and enjoy our half-day tours: Sintra and Fátima Tour (Lisbon) or Northwest Coast Tour (Funchal). If you prefer to discover the city on foot, you cannot miss our walking Funiculars Tour in Lisbon.
Contacts
Address:
Carristur Av. Dr. Augusto Castro 1950-082 Lisboa
Telephone:
+351 21 361 31 93
Tourism Circuits
Boat Trips
Train Tours
Guided Tours
Other Activities
Licence No.: 1005/99

Departures from: Lisbon: bus tours leave from Praça da Figueira and tram tours from Praça do Comércio; mini-bus has its terminal in front of the Mosteiro dos Jerónimos in Belém and mini-train in front of the Vasco de Gama Shopping Centre in the Parque das Nações Porto: Historical Porto, Porto Bridges ? Rua do Infante D. Henrique; Porto Castles ? Rua Ferreira Borges Funchal: all the tours ? Avenida do Mar Braga: Bracara Tour ? Avenida Central Coimbra: Funtastic Coimbra ? Largo da Portagem
---