Quinta dos Castanheiros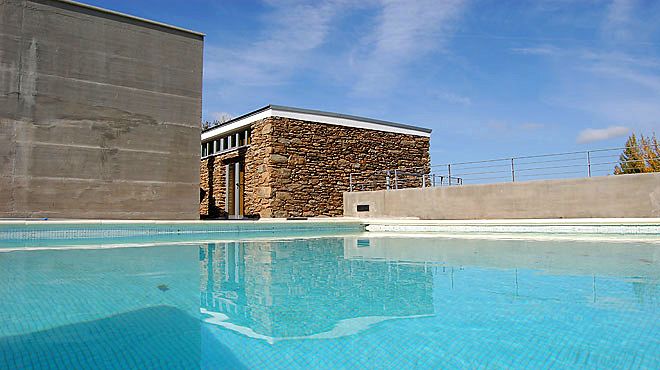 Quinta dos Castanheiros
Type of accommodation
Tourism in the Country
Category:
Country Houses
The Fifth is one of Chestnut Farm Rural Tourism in the province of Tras-os-Montes and Alto Douro between the village and the Natural Park of Negreda Montesinho, radiates a unique and welcoming atmosphere and offers all necessary facilities for a relaxing stay. A rustic stone house, which is consistent with the aura of the place, but decorated in a modern and irreverent, putting the hotel offers guests all the facilities to which this City entertainment may be used. A haven where you can rest, relax and forget stress the word ... For leisure time available the house, guests, a set of equipment for a pleasant stay in comfort. It has 9 double rooms with i.s. private, heating, air conditioning, storage for ski equipment, outdoor heated pool, sauna, jacuzzi, gym, games room, table tennis, barbecue facilities, conference room, observatory of fauna and flora, garage, parking free, non-smoking rooms, restaurant, terrace, designated smoking area, garden, and all kinds of indoor and outdoor activities, among which stand out hunting, fishing, hiking and mountain biking. In addition to activities, you can also take advantage of certain services: free internet access Wi-Fi included, business center, facilities for meetings / banquets, equipment Shoe Shine, Fax / Photocopying, Room Service, Internet services , Wi-Fi / Wireless LAN.
Contacts
Address:
Rua da Fonte nº1 Negreda-Celas 5320-023 Vinhais
Telephone:
+351 273 989 103
Number of beds
: 18
Number of rooms
: 9
Rooms in the main house
: 8
Rooms in the adjacent building
: 1
Restaurant
Bar
Reserved area for non-smokers
Reserved area for smokers
Internet Access
Central air conditioning
Central heating
Games room
Television room
Gymnasium
Jacuzzi
Sauna
Swimming-pool
Internet access in room
Air conditioning in room
Heating in room
Hair dryer in room
Television in room
Telephone in room
Guiding price
: $$$ (60€ - 90€)
Travellers Cheques accepted
Registration No.: 675

"A Quinta dos Castanheiros" offers guests magnificent horse riding and carriage through beautiful scenery of the village of Negreda.
---