Rout-E: discover Portugal by electric motorbike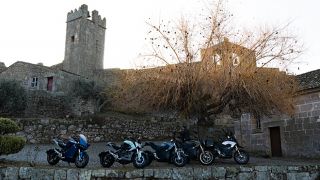 Nowadays, it is unavoidable to think about sustainable mobility and to adopt means of transport with low or zero CO2 emissions, either in what we do every day or to continue travelling, but reducing the carbon footprint of travel.

In the Rout-E project, we suggest five itineraries from north to south of the country - Porto and North, Centre of Portugal, Lisbon, Alentejo and Algarve - showing routes and places that characterise the best of this country. Hitching a ride on electric motorbikes, granting visibility to a different way of going on a trip, we reveal what we discovered on a trip where sustainable and spontaneous were the key words, joined by a diverse and authentic offer outside the usual attractions of big cities.

Join this idea and get inspired to make your sustainable journey around Portugal.
Porto and the North
The Douro Valley and its vineyards invited us to take a scenic route that continues to the Passadiços do Paiva (Paiva Walkways), and from there to the lush landscape of Frecha da Mizarela. Arriving in Porto by electric motorbike was the perfect motto to visit one of the city's most recent creations, the World of Wine, but also to discover the old Mosteiro da Serra do Pilar (Serra do Pilar Monastery), in Vila Nova de Gaia.
Centre of Portugal
The Centre of Portugal is a vast region, full of places where history has passed and where new memories are now being created, always in sustainable vehicles. From the rock engravings of Foz Côa to the village of Castelo Rodrigo, the historical monuments filled the eye, in a succession that then travelled 100 km to Belmonte. Along the way, the breath-taking Passadiços do Mondego (Mondego Walkways) deserved a stop, on a route that held surprises at the foot of Serra da Estrela, between burel factories and cheeses that awaken the senses.
Alentejo
The Alentejo emerged on plains dotted with yellow, a region full of secrets and places that retain their centuries-old spirit. The journey can begin at the coastal refuge of Comporta and head south, passing castles that tell stories of the stoicism of those who lived there. Whitewashed villages, like Santa Susana, or schist villages, like Monsaraz, open up to big cities like Évora and Beja, which streets leave their mark on the imagination of those who visit.
Algarve
To the south, the Algarve remains an unmissable destination and a reference for slow travel: setting off from the salt reserves of Castro Marim and traversing the most well-known lands of this very Portuguese paradise, from Loulé to Portimão, passing through Silves. The historical town of Lagos revealed its surprises, on the way to a final destination in Sagres, near the westernmost point of the Algarve and the southwesternmost point of Portugal.

In a commitment based on social, economic and environmental sustainability, Portugal is a destination of landscapes that excel in the enhancement and preservation of its cultural heritage, with its arms open to all who wish to discover it.

A new sustainable route begins now: it's time to set off on a journey of discovery!
---