Sketch Tour Portugal Reload 2021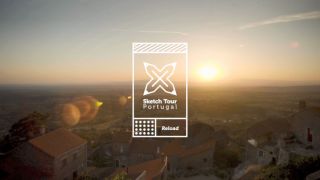 Writers and Urban Sketchers joint together on a special journey through Portugal.

In 2017, twenty-four urban sketchers from various nationalities were invited to take a journey showing their talent and getting to know the country in their own way, from a different perspective.

In 2021, a new edition of the Sketch Tour was designed with a new challenge, combining drawing with writing, that is, inviting urban skecthers and Portuguese writers.

The sketchers from various countries such as Spain, Italy, France, United Kingdom, Sweden and Egypt were joined by eleven reference authors and writers of the Portuguese language, from different generations: Mia Couto, José Luís Peixoto, Dulce Maria Cardoso, Afonso Cruz, Gonçalo Cadilhe, Rui Cardoso Martins, Sérgio Godinho, Marcela Costa, Matilde Campilho, Joel Neto and Jacinto Lucas Pires. The foreign sketchers included Lapin, Stefano Faravelli, Ian Fennelly, Simo Capecchi, Nina Johansson and Reham Ali.

Be surprised by the words and drawings and be inspired for your next trip to Portugal.

MADEIRA
Madeira was chosen to kick off the Sketch Tour Reload, a place where nature is the lingua franca and it's hard to find words to describe what you see..

Urban Sketchers: Luís Araújo (Portugal) and Charline Moreau (France)
Writer: Marcela Costa.
ALENTEJO
The Alentejo is a region made of two very different realities: the inland and the coast. On this tour it's all about the sea, the cliffs, the fish and the salt water. Known for being a place where time stands still, the Sketch Tour has revealed how to conquer time in the beautiful Alentejo.

Urban Sketchers: Nuno Branco (Portugal) and Marielle Duran (France)
Writer: Rui Cardoso Martins
CENTRO DE PORTUGAL
A journey through Central Portugal, a region rich in history, deep nature and tranquillity that never ceases to amaze.

Urban Sketchers: Alexandra Belo (Portugal) and Santi Sallés (Spain)
Writer: Gonçalo Cadilhe


Follow the Sketch Tour Portugal on Youtube/Visitportugal and at www.sketchtourportugal.com
---