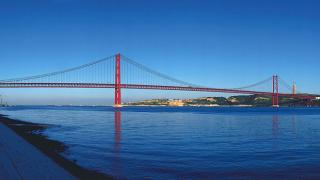 Lisbon is Portugal's capital and the hub of a multifaceted area that appeals to different tastes and senses.
In a city that has been influenced by many different far-off cultures over time, there is still a village feel in each historic neighbourhood. Stroll through the Pombaline grid of streets in the Baixa district that opens on to the Tagus in Praça do Comércio, then follow the river to discover some of the city's most beautiful parts: the monumental area of Belém with its World Heritage monuments, the mediaeval quarters and the latest contemporary leisure spaces, such as the Parque das Nações.



Photo: Praça do Comércio, Lisboa © Arq. Turismo de Portugal

If you continue to the mouth of the river, you'll understand why we say that Lisbon is the centre of a vast resort. Along the coastal road you'll find beaches and beach resorts that combine villas and hotels from the beginning of the 20th century with marinas, terraces and excellent golf courses. Further along the coast you'll come across world-renowned surfing beaches, but also the palaces scattered across the cultural landscape of Sintra, a World Heritage Site.

The wide variety of landscapes and heritage is always close by, whether to the north or south of the capital. With beaches, natural parks, cultural routes and accommodation for all tastes, it is hard to escape the Lisbon region on a visit to Portugal.
Fado is another expression of what it is to be Portuguese that has also been awarded World Heritage status. You can hear it at night in a fado house or in a traditional neighbourhood. But go, as well, to the lively bars and nightclubs, to find other types of music. From reggae to African music, new wave, indie or electronic, there's a great diversity of sounds and environments, but all are good excuses to have a drink and dance the night away.
---
---

The Historic Route of Linhas de Torres
Over 200 years old, the string of Napoleonic Wars forts known as the Linhas de Torres at Torres Vedras are the visible remains of the struggle between the Portuguese and the French for sovereignty (...)
---
Urban Sketchers - 6 days of surfing
Surfing was the theme that inspired yet another Sketch Tour Portugal trip along the coast, taking advantage of the Rip Curl Pro event, one of the most important events in the international surfing (...)
---
Urban Sketchers in Lisbon
The Urban Sketchers travels in Portugal would not be complete without a trip to Lisbon. This time around they are represented by Lis Watkins from Britain and by the host José Louro.They visited the (...)
---
Web Summit - What to do near Lisbon?
From November 5th to 8th, Portugal will be hosting the Web Summit for the third time in a row, one of the top events on the technology calendar, where new trends and innovative projects are unveiled. (...)
---
---