Winter in Portugal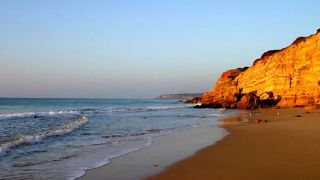 Winter in Portugal is a delightful season with frequent sunshine up and down the country and temperatures that rarely fall below 10ºC. And the Portuguese people are even more friendly and welcoming!
With an average of over 300 sunny days a year, winter here can sometimes seem more like spring and you will always need your sunglasses. What's more, some places have a special charm at this time of year:
Explore the Douro
The Douro, with its World Heritage scenery, becomes even more beautiful in September and October, when the grapes are harvested. You can even overnight at one of the wineries that produce port wine and excellent table wine, or at a fine mansion house.
Stroll on the Beach
In low season, walking along the beach is particularly pleasant. On the Madeiran island of Porto Santo alone, you have 9 km of sands which have therapeutic properties due to their temperature.
Thalassotherapy
But we have so many beaches on the mainland and in the Azores that it's hard to keep count. Many of them offer thalassotherapy centres, in particular the luxury resorts in the Algarve and Madeira, along with plenty more.
Golf
Portugal offers ideal conditions for golf, especially the courses in the Algarve and along the Estoril Coast, which are often fully booked in the winter. Voted Europe's best golf destination, in October the Algarve plays host to the Portugal Masters competition, one of the sport's top tournaments and a fixture on the PGA's European Tour calendar.
---