Easter | Sardoal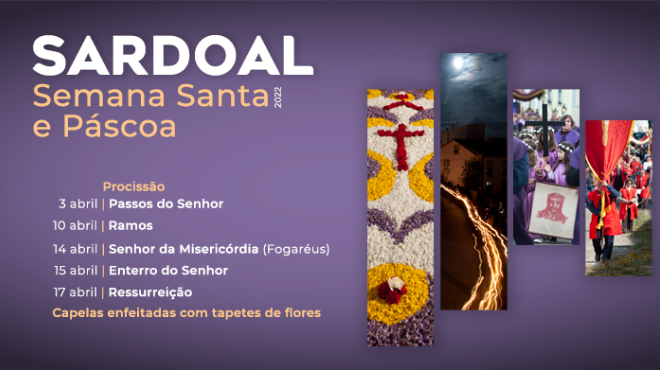 Easter | Sardoal
Sardoal is a county of deep religious traditions and faith, it is in the period of Lent, Holy Week and Easter that they gain greater prominence. The Procession of the Steps of the Lord is the most imposing and large-scale celebration. It includes the Sermon of the Meeting, in Praça da República. It is always a moment of great commotion for all who attend the event.
As part of the Holy Week celebrations, the Procession of the Lord of Mercy (or of the Bonfires) takes place on April 14. The whole atmosphere of this procession, provided by the lights of the candles and torches (all street lighting is turned off), is very mystical and moving. In addition, more than 600 lamps are lit in the windows of the houses, on the balconies and stairways of the Convent of Santa Maria da Caridade. Also on display during the procession are 18th century panels with scenes from the Passion that belong to Misericórdia.
It is estimated that this tradition is unique to Sardoal and is already part of the identity of this municipality. Between Holy Thursday and Easter Sunday groups of residents, various entities and associations collaborate to make flower carpets, The chapels and churches of the town are all open and display their carpets of flowers, carefully made by groups of people who, year after year, make a point of creating carpets based on natural flowers and vegetables with designs alluding to Holy Week and the Passion of Christ. The flowers, for the most part, are picked in the field. The only exception is in the Mother Church. The altarpiece of the Sacred Heart Chapel is decorated with wheat sprouted in the dark, turning a yellow hue. It decorates the altar where the consecrated host will be adored. Every year the decoration is the same.
The Churches are: Mother Church, Church of Mercy and Church of the Convent of Santa Maria da Caridade. The Chapels are: Chapel of the Holy Spirit, Chapel of Our Lady of Mount Carmel, Chapel of Saint Catherine, Chapel of Saint Anne, Chapel of Saint Sebastian and Chapel of the Lord of Remedies.
Start Date:
03 April 2023
End Date:
17 April 2023
Contacts
Telephone:
+351 241 851 498
---