Festa da Pinha | Estoi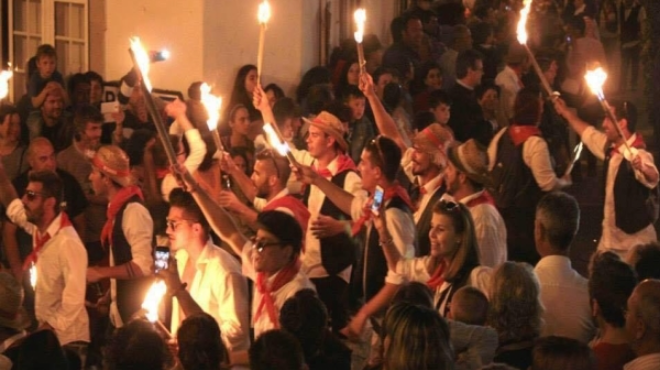 Festa da Pinha | Estoi
Every year, on May 2nd and 3rd, in the village of Estoi, in the Municipality of Faro, the "Festa da Pinha" is celebrated, a secular tradition that, according to oral sources, dates back more than two centuries. In the days leading up to the event the preparations begin: the decoration of the cars and animals that will be part of the parade, with palms and showy multicoloured flowers, in which the originality of each one prevails.
The festival begins on the morning of May 2, with the blessing of the pilgrims that will take place in the Largo do Mercado, with the gathering of the participants in the parade formed by the rigorously dressed horsemen and by beautifully decorated carts, trucks and tractors.
They then parade through the village shouting joyfully "Viva Pinha" and set off in the direction of Ludo, where lunch and the party will take place, made up of various delicacies and drinks and a conviviality enlivened by music and dance shows.
It is at the end of the day that the return to the village begins. At this time, already quite cheerful and wielding huge torches, they set off in the direction of Estoi, arriving late at night. In the Largo da Liberdade, in front of the main church, they are welcomed by a huge crowd and a spectacle of music and fireworks.
Then they parade through the village giving "Vivas à Pinha" (cheers to the pinecone), to the Hermitage of Pé da Cruz, where they throw their torches and rosemary into a bonfire lit in honor of their patron saint.
The party continues with music, dancing, and much merriment until dawn, ending on May 3, the day of Vera Cruz, with a Mass of Thanksgiving to Our Lady of Pé da Cruz.
Start Date:
02 May 2023
End Date:
03 May 2023
Contacts
---