Surma + Angélica Salvi + bb.wav b2b ELBA | Season Impulso 2023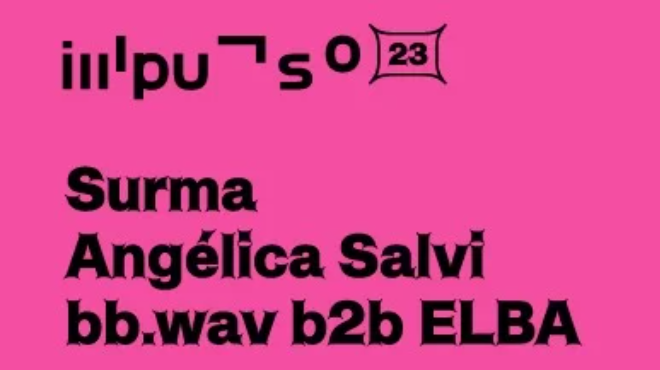 Surma + Angélica Salvi + bb.wav b2b ELBA | Season Impulso 2023
Impulso is a festival that unfolds over 10 months, for 10 distinct dates. There are more than 25 concerts and multidisciplinary projects, which will pinch the four seasons throughout the year: the 'Impulso 23 Season'.
On April 21st you can attend the concerts of TSurma, Angélica Salvi, and bb.wav b2b ELBA.

Surma: Surma is inspired by silence to create her own universe of jazz songs, electronics, and a multiplicity of influences, exploring paths not always obvious, but with a strong identity, her own phonetics, and creating unique moments that can take us from the Nordic fjords to cosmopolitan cities.

Angélica Salvi: The Spanish harpist Angélica Salvi, based in Porto since 2011, is dedicated to improvisation and contemporary and electroacoustic music, exploring various techniques of preparation and amplification of the instrument in search of new timbres and sonorities.

bb.wav: Dj influenced by pop culture, internet, raves and for having grown up listening to pure romantic music by Romeo Santos.
ELBA: Your first LP "La Magia Natural" oscillates between electronic pop and the avant-garde school, an almost perfect mash up between the more atmospheric mystical escapism and the more precise radio-formula concretism. This confluence of genres is also palpable in his DJ sessions, in which Techno, Synth, Eurodisco or Bakalao converge.
Start Date:
21 April 2023
End Date:
21 April 2023
Contacts
CCC - Centro Cultural e Congressos, Caldas da Rainha

---