"Viagens" | António Vasconcelos Lapa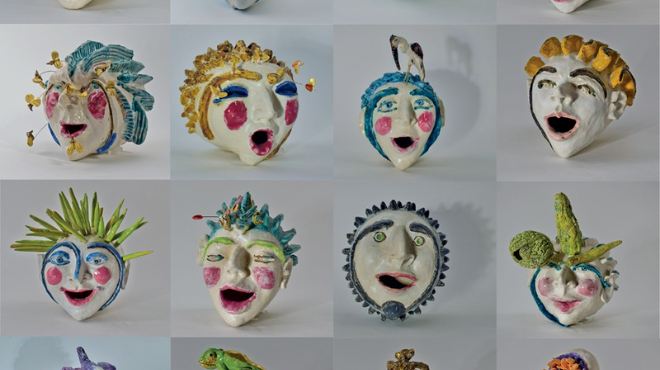 "Viagens" | António Vasconcelos Lapa
The title of this exhibition, Travels, was chosen by António Vasconcelos Lapa to confer unity to the immense diversity of his ceramic work: tile panels, high and low reliefs, three-dimensional pieces of laughing faces, animal heads, installations that spring from spaces, trees that rise, exotic flora and fauna.
The museum visitor will take a "great journey" that begins in 2001, with the birth of the ceramist's grandson, Vicente, which determines a turning point in his artistic expressiveness, giving rise to a fantasy world, the creation of a grandfather to feed the imagination of a grandson.
Made to be touched, these pieces are playful and multi-sensorial, vibrant, colorful, producing sounds, seemingly straight out of a children's story.
In a second moment are the journeys that Vasconcelos Lapa made, over the past years, to tropical forests in southwest Asia, with exuberant flora and fauna to be replicated by ceramic pieces.
Starting from the controlled space of one of the rooms, the exhibition then extends into gardens, cloisters and galleries of the former convent of Madre de Deus, reinventing prime areas of the museum, questioning visitors and interfering with the visiting circuit.
Start Date:
08 March 2023
End Date:
30 April 2023
Contacts
Museu Nacional do Azulejo, Lisboa

Telephone:
+351 218100340
Tuesday to Sunday-10:00 AM to 6:00 PM
---