Harvest Festival 2023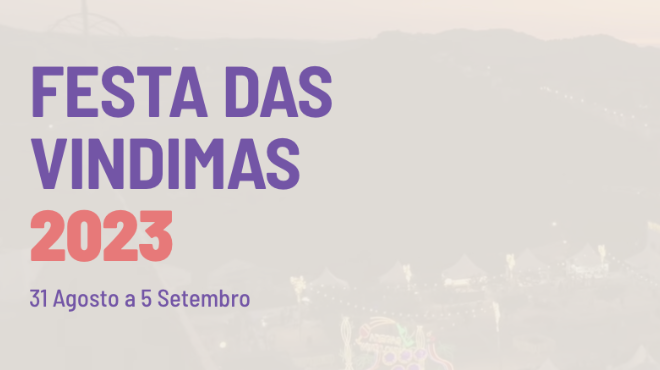 Harvest Festival 2023
Palmela is wine, people and tradition. Bountiful vineyards as far as the eye can see. History that lurks in every corner. Music that makes the heart overflow. Art that makes you think. Flavours that delight the palate.
After a time of such great uncertainty, we are back to celebrate, in the most awaited moment of the year in Palmela.

We will celebrate, with our usual joy, smiles, hugs and reunions, always keeping our homes and our hearts open for those who visit us.
We will, once again, celebrate our traditions: proudly welcome our new Queen; attend the blessing of the first must; participate in the parades and celebrate the Wine that is King in our land.

Choose one of the sports events to participate!
Let us attend the different shows that enliven our nights!
But always with the joy and parochialism that characterises us, because after all?
... the Harvest is all of us!
Start Date:
31 August 2023
End Date:
05 September 2023
Contacts
---