Marcello Rota directs Nino Rota & Ennio Morricone - The greatest soundtracks (...)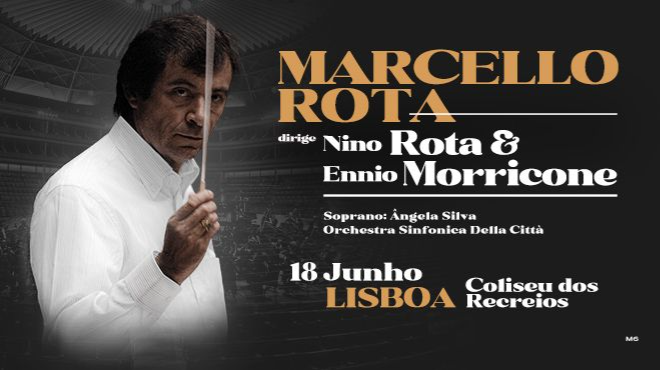 Marcello Rota directs Nino Rota & Ennio Morricone - The greatest soundtracks in the history of cinema
The prestigious Maestro Marcello Rota will conduct two of the greatest Oscar-winning composers: Nino Rota & Ennio Morricone, on June 18, at the Coliseu dos Recreios, in Lisbon. The 50 musicians of the Orchestra Sinfonica Della Città will be joined by soprano Ângela Silva.

In his luggage, the Italian maestro brings the greatest soundtracks of the history of cinema of the last decades. On this night, only the most iconic songs will be played! Just think of films such as "The Godfather (Il Padrino)", "The Good, the Bad and the Villain", "The Mission", "Romeo and Juliet", "The Professional", "Once upon a time in America" or "Hang in there Scoundrel", which are obligatory interpretations in this show.

Moving images, projected on a big screen, from films by Federico Fellini, Francis Ford Coppola, Giuseppe Tornatore or Sergio Leone, will accompany the magic of live music.

This will be a unique moment to experience the music of cinema, in concert!
Start Date:
18 June 2023
End Date:
18 June 2023
Contacts
Coliseu dos Recreios, Lisboa

Telephone:
+ 351 212 495 982
---