"Revisiting" by Jorge Vieira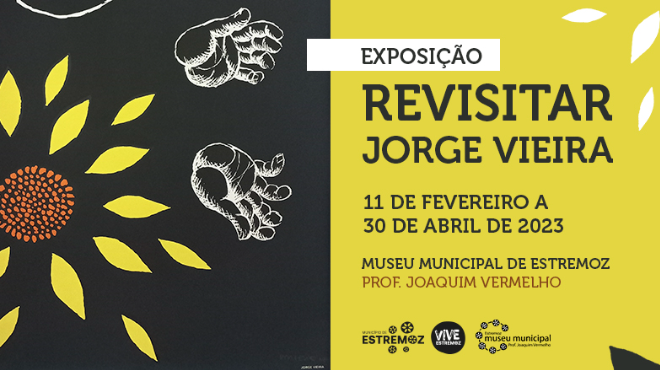 "Revisiting" by Jorge Vieira
The selection of works on display represents the five decades of his artistic career, which techniques and materials he used and which sources he drew from (primitivism, classicism, surrealism, abstractionism).
Jorge Vieira was born in Lisbon on 16th November 1922. In order to encourage him to follow his natural vocation, his father took the initiative to enrol him at the Lisbon School of Fine Arts. He attended from 1944 to 1952, first enrolling in Architecture and then Sculpture.
Working in the ateliers of Francisco Franco and António da Rocha Correia was fundamental to his training, and he practised terracotta with engobes with the latter, a fundamental aspect of his future work.
He exhibited for the first time in 1949 at the Sociedade Nacional de Belas Artes.
In 1952 he competed in the International Sculpture Competition in London - "The Unknown Political Prisoner". He was awarded a prize and his work was exhibited at the Tate Gallery in the 1953 Prize Winners Exhibition.
In 1954/55 he attends the Slade School of Fine Arts in London and in 1956 he exhibits at the Hannover Gallery in London.
In 1958 he took part in the Brussels International Fair. Here he was selected for the exhibition "50 ans d'Art Modern", which awarded him a gold medal. He was the only Portuguese sculptor in the exhibition.
In 1961 he won 1st Prize in Sculpture at the 2nd Gulbenkian Foundation Fine Arts Exhibition.
Jorge Vieira had a strong connection to the city of Estremoz and in 1982 he even bought a house on the outskirts of the city, where he came to work whenever possible and where he died in 1998.
In 2000, the Municipality of Estremoz inaugurated the Marble Monument whose project was conceived and offered by Jorge Vieira to this municipality in 1996.
He is represented in the collection of the Drawing Gallery of the Museu Municipal de Estremoz Prof. Joaquim Vermelho with drawing and sculpture works donated by himself and his wife Noémia Cruz.
The exhibition will be open until 30 April 2023.
Start Date:
11 February 2023
End Date:
30 April 2023
Contacts
Museu Municipal Professor Joaquim Vermelho, Estremoz

---