VLUDO (Blasph + Sam the Kid (STK) + DJ Kronic)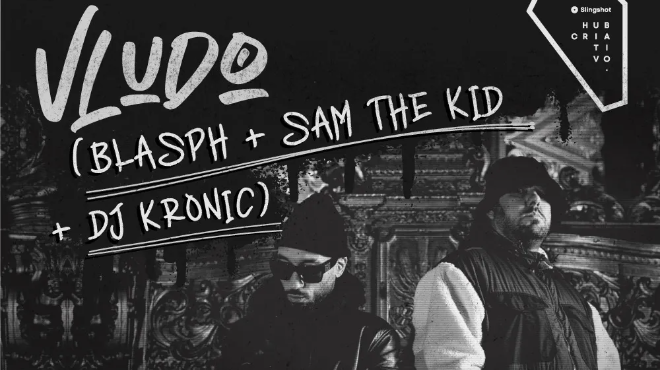 VLUDO (Blasph + Sam the Kid (STK) + DJ Kronic)
With VLUDO, Blasph, Sam the Kid (STK) and DJ Kronic bring to life the distinct and historic aura that Margem Sul and Chelas bring to the national rap scene. The trio's first foray stirred up the waters with "Ondulação", a track that featured Blasph on the rhymes, Sam the Kid on the production and DJ Kronic on the cuts, and would be part of the compilation "Mechelas", released in 2018. Between visits to the Magic Room and suggestions left by the producer, the album "Dedos Finos" began to take shape, with the first tracks recorded at Covil do Dragão by Fred Ferreira, from Orelha Negra.
After a break due to the pandemic, the artists got back to work and, as more tracks were produced, this first work became a "concept album, not wanting to be", with "many references to religion, not in divine form, but in aesthetics - lust, gold and velvet".
The name "VLUDO" fit like a glove, with the singularity of being written in an uncompromising way. Tom (Beirut) and Jay Fella (MVP) are the new talents recruited from the South Bank by the trio. On the track "Sangue Azul", Blasph once again features the voice of Amaura, who also took part in the project "O Processo", an album produced by Kilú.
Sam The Kid also contributes his vocals to the track "Património", as is usual in the projects he produces, such as Classe Crua and Grognation. All the tracks were mixed and mastered by Here's Johnny, for Superbad, and the artwork was in the hands of Deck97.
Start Date:
02 December 2023
End Date:
02 December 2023
Contacts
Bang Venue, Torres Vedras

---