JanFebMarAprMayJuneJulAugSeptOctNovDec
09 Sept 2014
Taste Portugal | London 2014/15
Taste Portugal is delighted to be bringing some of the best gourmet delights, along with esteemed Michelin-starred chefs and a range of special culinary and cultural events to London and the surrounding area, from September 2014 to March 2015, as part of an unmissable epicurean extravaganza.
London, as well as being the world's most visited city, is officially culinary capital of the world, with a surge in the number of its chefs being awarded their first Michelin star. The city was therefore the natural choice for Taste Portugal - a project organised and presented by the Portuguese Board of Tourism (Turismo de Portugal) - to take place, and we are absolutely delighted to be working with some of the capital's hottest-ticket, covetable venues. Star chefs – including Luís Baena, José Avillez, Matteo Ferrantino, Dieter Koschina, Ricardo Costa and others – will work together with our executive sommelier Arnaud Vallet, and his colleagues, to offer tasting events and dinners to die for. The secrets of age-old traditions will be combined with contemporary culinary know-how to throw the spotlight on to this exquisite gem of a cuisine.

For more information please visit www.tasteportugal-london.com


---
JanFebMarAprMayJuneJulAugSeptOctNovDec
21 Aug 2014
Visit Europe Travel Film Competition open to all travellers across Europe
One journey, three European destinations & a chance to win a trip & come back soon!

The European Travel Commission is seeking exciting travel films made by anyone who is travelling around Europe. They would like to see short films that reflect a personal journey and show what a unique, interesting or just pure fun time people have had.

The winning film will be rewarded with a holiday for two in Europe, including flights and accommodation for two weeks. Additionally, the winner will receive first-class rail passes to get around Europe in the most comfortable way.

To enter the competition, applicants should complete the online entry form and include a link to the short film complying with the following basic rules:
- It must show travel across at least 3 countries in Europe;
- It must be no longer than 5 minutes;
- All content must be owned by the person submitting the film;
- It should not use any commercial music;
- A link to the film must be provided via Facebook, YouTube, Vimeo or other online link.

The films can be submitted before October 1st 2014.

See the guidelines and further information at http://euroshorts-films.com/
---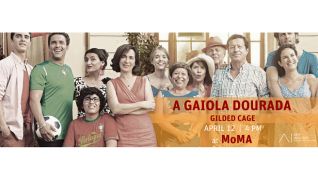 JanFebMarAprMayJuneJulAugSeptOctNovDec
04 Apr 2014
A Gaiola Dourada (The Gilded Cage) at Museum of Modern Art in New York City
Arte Institute is pleased to present the screening of the movie "The Gilded Cage" at Museum of Modern Art in New York City on April 12 at 4 p.m. Director Ruben Alves and actors Rita Blanco and Joaquim de Almeida will be attending.

The film is a comedy based on Portuguese emigration to France, was the most viewed film in theaters in Portugal in 2013. Ruben Alves won an audience Award at the European Awards Cinema. The film stars Rita Blanco and Joaquim de Almeida.

The screening in one of the most respected museums of modern art in the world is an initiative of the Art Institute, a nonprofit organization that promotes Portuguese culture and art. The project is also supported by the Camões Institute for Cooperation and Language.

Plot: Maria (Rita Blanco) and José (Joaquim de Almeida) emigrated from Portugal to France 30 years ago. Ever since, they have lived in modest lodgings at the street level of a chic apartment building in Paris, raising their now adult daughter and teenage son. They are universally liked around the community: Maria is the building concierge, always available, even on her day off, maintaining the high standards the inhabitants depend on. José, a building site foreman, is equally as indispensable to his boss (though both men are unaware that their son and daughter are secretly engaged). When José learns he has inherited the family winery and the couple's dream of returning to Portugal is now possible, they are elated but struggle with how to tell those around them. However, word of the big news spreads anyway, and soon their family, neighbors, friends and employers are scrambling behind the scenes to find ways to prevent them from leaving. Alves warm-hearted, cross-cultural comedy features a terrific ensemble cast, spot-on comic timing and a thoroughly appealing central couple, whose dilemmas are portrayed with great tenderness and affection. Enthusiastically embraced by audiences upon release in April this year, THE GILDED CAGE became the sleeper box office hit of the French spring, selling over 1.2 million tickets in less than five weeks.

The Arte Institute is a non-profit organization that promotes culture and showcases art from Portugal. It is a space that offers a creative environment for Portuguese artists in the field of art, literature, music, dance and film.
---