COVID-19 | Measures implemented in Portugal
Implemented measures during the outbreak of COVID-19
[Updated 26 October]

During the outbreak of pneumonia by the new Coronavirus – COVID-19 the Portuguese government has been taking all necessary public health measures to protect the entire population. The analysis of the evolution of the outbreak is constant and implementation of new measures will be carried out whenever necessary.

General behaviour guidelines were enacted, in which all people must adopt a social distance (2 meters) and the use of face masks is mandatory in all public places.

In order to prevent the spread of the virus and the possibility of contagion, all services should take hygiene and sanitisation measures according to the indications of the Directorate-General for Health, with specific recommendations for various sectors of activity. In tourism, the "Clean & Safe" seal, defined by Turismo de Portugal, was implemented, which allows tourists to have greater security and confidence in the use of accommodation establishments, in the various tourist services and tourist attractions.

In the archipelagos of Madeira and the Azores, both regional governments have enacted some specific measures.

Detailed information about the Deconfinement Plan at https://covid19estamoson.gov.pt/ (in Portuguese)
Azores - www.visitazores.com / https://destinoseguro.azores.gov.pt
Madeira - www.visitmadeira.pt / www.madeira.gov.pt/Covid19 / https://covidmadeira.pt
You can get updated information on the evolution of the COVID-19 pandemic in Portugal at WHO - World Health Organization (https://covid19.who.int/region/euro/country/pt) or at DGS – Portuguese General Directorate of Health (https://covid19.min-saude.pt/).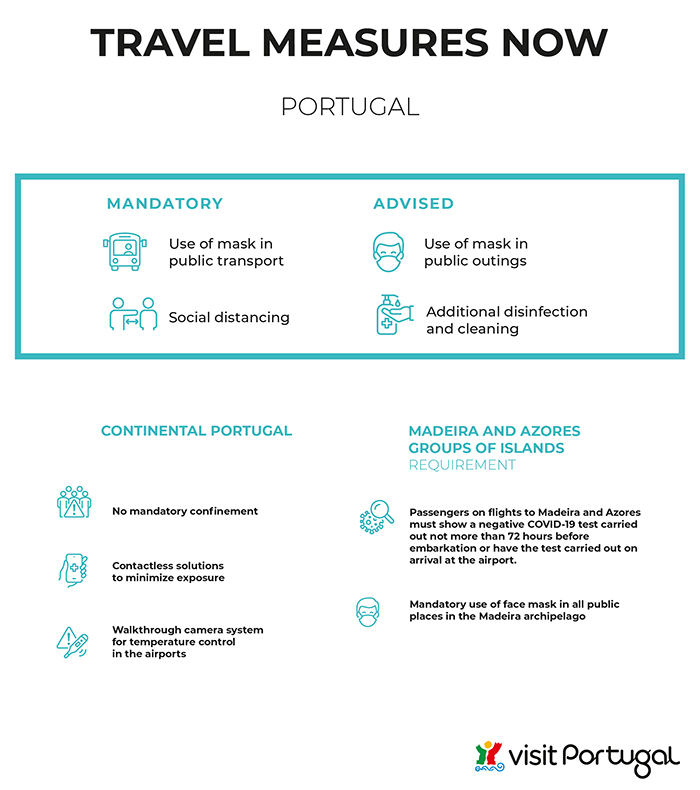 Before travelling, visitors should obtain and confirm information about procedures and restrictions in the countries of origin and destination, from the airline company and from the foreign and border services.
Travel within Portuguese territory / Border restriction
There are no specific restrictions on mobility to cross land borders.
In Portuguese continental territory, a restriction on the movement of citizens outside the usual municipality of residence was determined between 0:00 on October 30 and 23:59 on November 3, except for health reasons and for reasons of imperative urgency.
This restriction does not apply to several situations, including:
- performance of professional activities (if accompanied by a statement from their company or by a declaration under honour);
- attendance of schools, daycare centres and leisure activities;
- training, tests and exams and inspections;
- participation in legal acts and attendance at public services, if proof of appointment is provided;
- travel required to leave mainland Portugal;
- travel by non-resident citizens to places of proven residence or hotel reservation;
- trips to watch cultural shows with ticket already bought, provided they are in municipalities
bordering to the usual residence or in the same Metropolitan Area;
- return to usual residence.
This information can be found in its entirety at https://dre.pt (in Portuguese)

In the municipalities of Felgueiras, Lousada and Paços de Ferreira special measures were declared with restrictions on circulation, in force as of 12:00 am on 23 October. Circulation is only allowed in the following situations:
- acquisition of goods and services;
- performance of professional activities (as long as accompanied by a statement from their company);
- health reasons;
- assistance to vulnerable people;
- attendance of school;
- travel to non-closed workspaces and services;
- enjoying moments outdoors;
- travel to events and access to cultural facilities;
- practice of physical activity outdoors;
- companion animal walk
Private vehicles can only travel on public roads to carry out authorized activities (above) or to refuel at gas stations.


Embarkation and disembarkation of tourism cruises
Passenger boarding and disembarkation at Portuguese ports is not permitted, except for resident passengers.


Gatherings
The movement and concentration of groups of more than 5 people is prohibited, in private or public spaces, unless they belong to the same household. The same rule applies in the case of restaurants and cafes.
In restaurants, cafes and pastries located 300 meters away from a school or higher education institution there is a maximum concentration limit of 4 people, as well as in restaurant areas of shopping centres (food-courts).


Transports
The use of face masks is mandatory.
Public transports are limited to 2/3 of the capacity.
In taxis / TVDE, the front seats must be used only by the driver, and passenger occupancy cannot exceed 2/3 of the remaining space.


Rent-a-Car
In vehicles with a capacity of 5 seats or less, they can be fully occupied if they belong to the same household.
If the vehicle has a capacity for more than 5 seats, its capacity is limited to 2/3 of the total, unless they are part of the same household.


Access to commercial premises and catering and beverage establishments
Restaurants, cafes, pastries, and terraces must maintain a minimum distance of 1.5m between the seats to be occupied. Restaurants must close until 1 a.m.
Commercial establishments must close between 8 p.m. and 11 p.m., as determined by the city hall of the geographical area.
The use of face masks is mandatory when people walk around in the restaurant.
The take-away options and home deliveries can be maintained.


Sales and consumption of alcoholic beverages
The sale of alcoholic beverages is prohibited in service areas or gas stations and, from 8 p.m., in shops including supermarkets and hypermarkets.
The consumption of alcoholic beverages in open-air spaces and public pathways is forbidden unless it is integrated in a meal service.


Bars and Nightclubs
They remain closed and may operate only as cafes or pastries and are subject to the rules specified for these establishments.


Museums, cultural spaces and leisure spaces
Museums, monuments and cultural spaces have reopened with specific circulation measures and social distance.
Cinemas, theatres, auditoriums and showrooms must have marked seats, reduced capacity and must keep physical distance.
The use of face mask is mandatory.


Open-air events
Outdoor shows can take place in a delimited venue to allow access control, even if free. They must follow rules of social distance and circulation, in order to minimize physical contact.


Religious Ceremonies
Religious ceremonies must follow the rules of capacity reduction, social distancing and the mandatory use of a mask.


Golf
Each golf course follows the recommended health guidelines as well as specific measures established by the Portuguese Golf Federation available at www.fpg.pt.


Accommodation
During the month of June, the tourist accommodation will resume its activity, being able to adopt the "Clean & Safe" seal implemented by Turismo de Portugal, which allows the identification of establishments and services that have implemented enhanced hygiene and safety measures.
A general occupancy limitation has not been determined, but each accommodation unit must define a Contingency Plan to be applied in the COVID-19 context, with circulation rules in common areas, as well as hygiene and cleaning procedures.


Swimming pool
Establishments with a swimming pool must implement procedures for the prevention and control of infection, ensuring compliance with rules of occupation, permanence, hygiene of spaces and physical distance between users.

Campings
The campsites, as well as the service areas for motorhomes, will have a maximum capacity limited to 2/3 of the area.
---