Discovering the baroque in Portugal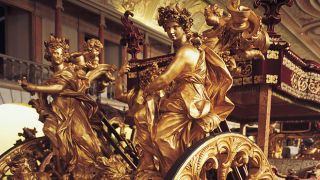 Travel across Portugal from north to south, including a trip to the archipelagos of Madeira and the Azores, and discover the fascinating icons that illustrate the "Golden Age" in Portugal.

Having arrived in Portugal later than it did in the rest of Europe, baroque art was to take on a different form here, but it still continued to demonstrate great vigour and vitality. While the most eye-catching exterior features of the many monuments built in the 17th and 18th centuries were their spectacular appearance and their huge size, the interiors were surprising because of their great decorative wealth. One of their most notable characteristics is the great profusion of carved and gilded woodwork and decorative glazed tiles, but the baroque taste was equally well expressed in sculpture, painting, ceramics, gold and silverware, jewellery, furniture and textiles.

To help you in your discoveries, we suggest four tours in which you can appreciate the particular characteristics of this style in each region. In Porto and the North, set off "In Search of Treasures" and admire the grandeur of some of the region's granite buildings with their elaborate portals and sumptuous interiors. And we're not just talking about religious architecture, just look at some of the imposing manor houses in which the nobility used to live.

These stately homes can also be found in the Centre of Portugal, but in the tour that we recommend for you here, it's the details that really matter. "Splendour in the Centre" will take you to some of the most important cities in the region to see fascinating works of sculpture, painting, gold and silverware, furniture and sacred art, as well as fountains, gardens or even a fortress.

In the Lisbon region, we recommend "A Golden Tour", since this is the predominant colour inside so many of the churches and palaces that you'll visit. But you'll also have the chance to see the baroque style applied to means of transport, such as coaches and galleys. And you can even discover it in the world of town planning – did you know that, after the great Lisbon earthquake in 1755, the city's rebuilding was planned in accordance with the special principles of the Enlightenment?

And, so that you can form a complete picture of the country, you should also travel to the south of Portugal and the islands. Alentejo, Algarve, the Azores and Madeira all have lots of "Hidden Treasures" which it's worth taking some time to discover. Sometimes what you'll see are austere-looking façades behind which lie the great riches and masterpieces of the inside. At other times, you'll discover churches and sanctuaries hidden away that are worth the trip just in themselves.

Accept our challenge and set off on an adventure trip round Portugal, in search of the baroque!


---