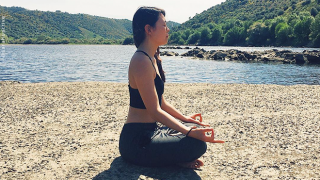 There's nothing like an old recipe using ingredients offered by nature to take care of your health and to escape routine: fine weather, sunshine, clean air, clear waters, and plants and algae with therapeutic properties. You can depend on it. It may be at a thermal resort or a spa, by the sea or in the mountains.
There are different health and well-being programmes suitable for everyone. These relaxing moments, indispensable for restoring balance, can be undertaken in different ways.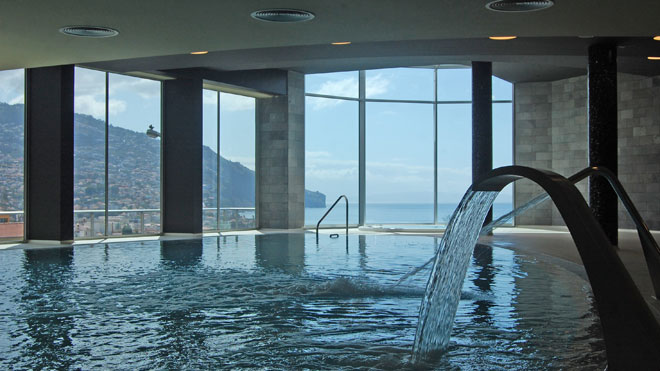 Indoor heated swimming pool from ©Four Views Baía Hotel _Funchal_Madeira
At a thermal spa, using traditional techniques, enjoying the therapeutic properties and mineral richness of the waters; taking advantage of the extensive coastline and the Atlantic waters for thalassotherapy; or through relaxation sessions based on the regenerating effects of wine, chocolate or hot stones which you will find at spas and resorts as a complement to a holiday taken in style.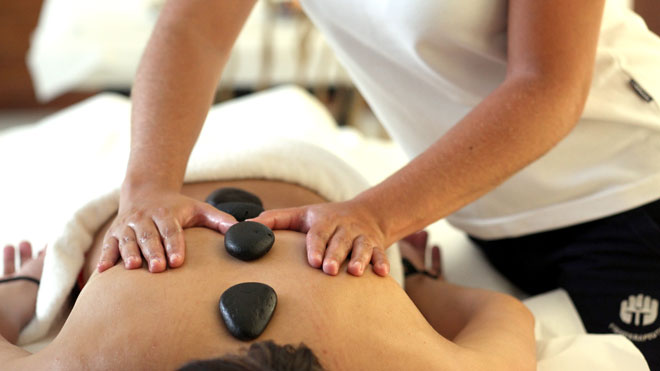 Hot Stone massage in Termas da Ferraria, São Miguel Island ©Publiçor and Turismo dos Açores
With opportunities all over the country, Portugal offers true havens to shake off the "diseases of modern life" and find peace and inner serenity and restore your energy.
---
---
Thalassotherapy, the good done by sea water
It's no coincidence that we feel good when we're by the sea. For those looking for well-being and caring about their health, the therapeutic properties of Atlantic waters that bathe the Portuguese (...)
---

A day of wellness at a spa
Free your spirit and regain your balance. The mild climate and ideal location near the ocean make Portugal's spas natural reserves for wellness.If you're looking for a quiet holiday destination, In (...)
---

Health and Well-being in Madeira
Discover an environment of perfect harmony between nature and man where the maxim "a sound mind in a healthy body" makes perfect sense.Madeira is much more than an island; it is a mystical place, one (...)
---

Spas in Porto and Northern Portugal
The Porto and Northern Regions are particularly rich in Spas, with waters gushing from the earth sometimes at high temperatures and with well-known therapeutic effects.In some cases, their benefits (...)
---