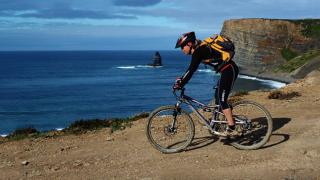 Those who visit us will discover a lively people who enjoy the climate and the pleasure of being with each other, often in the open air, experiencing various activities surrounded by nature.
From kite surfing to bike rides over hill and dale, or rock climbing, abseiling and zip wiring for the more adventurous, the options are endless for those who like to keep active.
For those wanting to pump the adrenaline, Portugal has some great challenges in its perfect waves for surfing. Or windsurfing, sailing or paragliding with winds that are guaranteed to get the thrills soaring. Skiing and parasailing, too, provide some amazing experiences.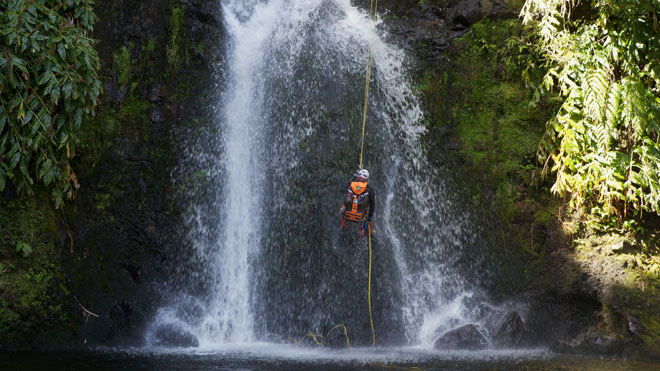 Canyoning in Azores © Rui Vieira and Turismo dos Açores
Try rafting, canyoning and canoeing on Portugal's rivers. And discover their sources deep within the earth, going potholing to delve into unexplored caves.

To enjoy nature in all its charm, we recommend some calmer activities, such as hiking or horse riding, taking in the fragrance of the wild flowers on a beautiful sunny day. Or mountaineering, where apart from the stunning views, you can reach the highest peaks to be rewarded with a view of the nests and flight of birds of prey. There are also boat trips to see dolphins and whales, images that you will never forget.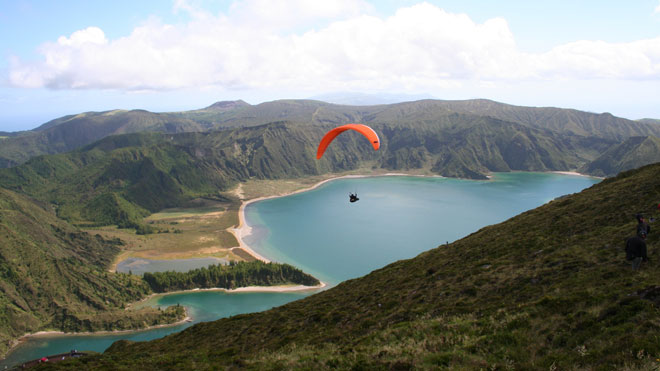 Paragliding_Fogo Lake © Clube Asas do Atlântico and Turismo dos Açores
There's no shortage of ideas and suggestions, the landscapes offer a wealth of diversity and the fine climate will surely be on your side... We might even say that in Portugal, the best companion for adventures is Nature!
---
---

Birdwatching
Despite being relatively small in terms of territory, Portugal is regarded as one of the best destinations in Europe for bird watching because it has an excellent concentration of different (...)
---

Cycling
Exploring Portugal by bike is a unique experience. You can take it at your own pace, sensing the aromas and sounds that might otherwise pass unnoticed. Whether you choose the sea at your side, to go (...)
---

Family holidays
Portugal offers excellent opportunities for a family holiday, as it is a small country on the Atlantic coast, ideal for both outdoor and indoor activities.Portugal is about 800km from north to south (...)
---

Schist villages
Hidden between mountain slopes of leafy vegetation, the schist villages are one of our best kept secrets, but one that their pleasant, friendly inhabitants enjoy helping to reveal. In this magical (...)
---