Sailing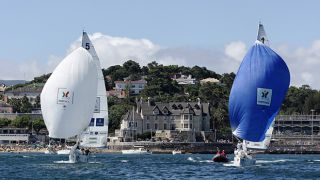 With its mild climate, bright sunshine and favourable winds, sailing along the Portuguese coast is a great pleasure. As always in the Atlantic Ocean, it is sometimes calm for a relaxed spot of sailing, and sometimes more temperamental, offering challenges that require a lot of energy.

Whereas in the 15th century, the Portuguese set sail in caravels and ships to venture into "uncharted waters", as Camões so well narrated, these days the sea offers exceptional conditions for this sport. Sailing in various classes of boat is practised from the north to the south, as well as in the Azores and Madeira.

There are, however, a few places that stand out. Cascais bay, near Lisbon, and Lagos bay in the Algarve are considered amongst the best regatta locations in the world, which is why they regularly host some of sailing's most prestigious events and trophies. Many international races, including competitions and stages, take place in Portuguese waters, such as the Tall Ships Races and the Volvo Ocean Race in Lisbon, the Clipper around the world Regatta in Madeira, TP/52 Audi Med Cup in Portimão and the Centenary of the International Sailing Federation (ISAF), which was held in Cascais.
---