Thalassotherapy, the good done by sea water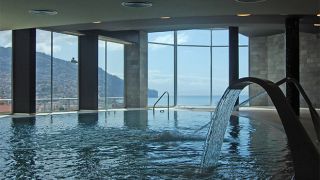 It's no coincidence that we feel good when we're by the sea. For those looking for well-being and caring about their health, the therapeutic properties of Atlantic waters that bathe the Portuguese coast are a source of balance.

It is well known that Portugal has a very close connection with the Atlantic at various levels, both economic and leisure. But this ocean also has characteristics that make the water richer for the practice of thalassotherapy. It's a source of vital elements and has a composition similar to human plasma, which allows it to have a beneficial effect on the physical and mental well-being. Its trace elements include magnesium, iodine, lithium, zinc, copper, selenium and calcium, among many other minerals that are essential to the body.

The combined use of water, air and marine extracts such as algae, sand and mud has regenerating effects. The most common programmes are dedicated to alleviating fatigue and stress, and for general convalescence and recovery, but there is a great variety and something always appropriate for each case.

There are specialist centres with modern equipment in various regions - in Porto and the North, in Central Portugal, in Lisbon, in the Algarve and on the islands of Madeira and Porto Santo. Toning, moisturising and rejuvenating are some of the keywords that they share.

In the Algarve, with the beach beckoning, "slimming cures" or special programmes for "toning the legs" are just two of the many regimes you can experience. Your body will thank you and the sunny days will have added value.

On the beautiful island of Porto Santo, the subtropical climate and peaceful surroundings help you find the deepest well-being. The therapeutic benefits of fine sandy beaches and waters rich in iodine, calcium and magnesium are ideal for alleviating the fatigue of everyday life. And with a regime of algae, mud and sand, your skin will easily regain that special glow.

Sessions in saltwater pools can be combined with other relaxation techniques like aromatherapy, hot stones, yoga and meditation. Everything is geared to taking care of the body and restoring the mind, and always by the sea.

The thalassotherapy centres are integrated into resorts and high quality hotels, usually located in areas of great natural beauty and tranquillity, allowing you to take advantage of your leisure time to engage in sports or outdoor activities. Playing tennis or a round of golf, going for a walk or a bike ride, or taking a relaxing boat ride are just some of the suggestions that can easily be undertaken and seamlessly combine with thalassotherapy.

In Portugal, the well-being of body and spirit are given all the attention they deserve.


---