Alcácer do Sal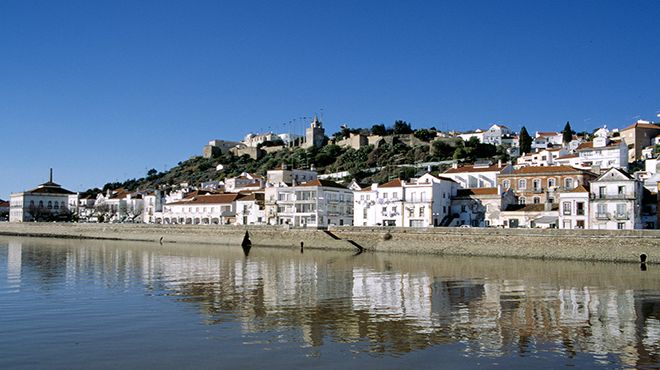 Alcácer do Sal
Graciously laid out over the right bank of the Sado river and rising up a gentle slope, Alcácer do Sal has been settled since the earliest of times. Archaeological remains have been found that date back to the Neolithic period not to mention evidence of Greek, Phoenician and other Mediterranean peoples having passed through.

Named by the Romans Salacia Urbs Imperatoria, the location took on major importance for the Empire due to its excellent location alongside the Sado river that was then an important thoroughfare. It was primarily used to transport local products (wheat, olive oil and wine) out to other parts of the Roman empire. At the time, Alcácer was one of the most important inland ports on the Western peninsula further establishing a reputation for manufacturing salt (hence the addition of Sal (salt) to its name) and salting and processing fish.

During the Moorish occupation (from the 8th century), Alcácer became capital of the Al-Kasser province. The walls of the old fort were reinforced with the Muslim city protected by two rings with the battlements overlooked by 30 towers making it one of the largest defensive forts on the Iberian peninsula.

Nevertheless, in 1217 it was conquered by king Afonso II, with the help of the Crusaders who joined the fight on their way from Syria and the Holy Land. It was then handed over to the Military Order of Santiago to establish its headquarters here.

While it may have lost its military and trading importance, Alcácer do Sal maintains intact its enviable beauty. From the castle, looking south, there is sharp bend in the river Sado, irrigating the smooth green plain that pre-empts the great Alentejan plain. Recently restored to take in a pousada (manor hotel), the castle is named after its Christian conqueror: Afonso II. From here, laid out below, around the four points of the compass, are magnificent panoramic views over the rivers and fields, ideal for reminiscing over the heavy and varied traffic that used to pass by below.

A wander around Alcácer do Sal reveals the most charming aspects of the city, with its alleys and stairways leading up to the castle. Take the opportunity to look in on some of the main points of interest such as the Church of Santa Maria do Castelo (Saint Mary of the Castle), the Chapel of Senhor dos Mártires (Lord of the Martyrs), the Church of Santo António (Saint Anthony), the Church of Santiago and the Municipal Museum of Archaeology.

In the vicinity, and all within a range of 30 km, do not miss out on the chance to see the villages of Santa Susana, Porto de Rei and Torrão or the Vale do Gaio dam. Should you prefer the coastline, there are some quality beaches to be had at Comporta, Torre, Carvalhal, Raposa or Galé.
---