Castelo Branco Embroidery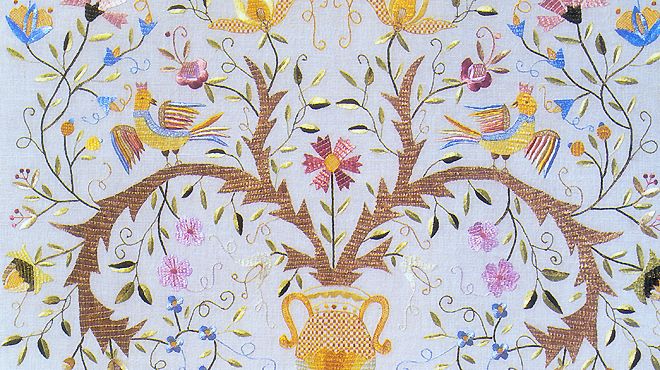 Castelo Branco Embroidery
Known to have been in production between the 17th and 19th centuries, the first reference to this local style was made by Jaime Lopes Dias, at the 4th Beirão Congress held in Castelo Branco in 1931. He called for greater recognition of this form of artistic expression as part of the regional heritage. In 1976, the Atelier-School of Regional Embroidery was set up in the Francisco Tavares Proença Júnior Museum. The centre continues to operate and is dedicated to preserving, producing, restoring and promoting this style.

The embroidery is done in silk thread on linen using various styles of stitch but especially the defining slack stitch, also known as the Castelo Branco stitch. There is no limit to the range of colours although there are monochromatic examples where the design takes on greater prominence. In general terms, Castelo Branco Embroidery can be divided into two styles: the popular, with more obvious designs, and the erudite, more elaborate and complex and attributed to the upper, better educated classes. Some designs reflect influences brought back from the Orient on the Portuguese voyages of exploration. However, there are also references to daily life, the local fauna and flora or even just erudite artistic figures appropriate to the respective periods and taken from Renaissance and Baroque imagery.

In some parts of the Castelo Branco district, they are still part of the bride´s trousseau shown on her wedding day when the bride and groom open up their homes to the guests.
Castelo Branco Embroidery