Lisbon Sports Club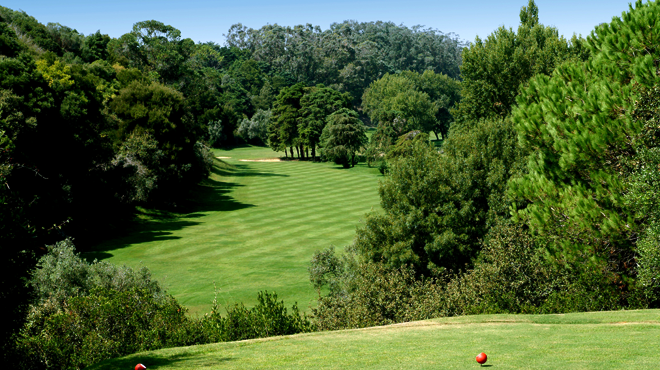 Lisbon Sports Club
Originally Lisbon Sports Club dates back to 1880, when a group of English residents living in the Lisbon area, founded a Sports Club. By 1890 they had built a small six hole golf course in Alges. In 1922 the Club moved to Alto da Ajuda to a nine hole course. Then, in 1962, the Club moved again, this time to Casal de Carregueira, where it remains today situated between the village of Belas and Vale de Lobos, about 20 km from Cascais and Lisbon. The course was inaugurated with nine holes, five more holes were added a few years later and then finally in 1992 its eighteen holes were completed.

Situated amidst hills and valleys it is a relatively short course, however the natural layout of the land makes it more difficult than it appears. Concentration and strategy are fundamental. Along most of the course runs a winding water ditch. The narrow fairways lined with beautiful old trees and abundant vegetation blend in perfectly with the natural surroundings. Each hole is so different that no matter how often they are played, there are always new challenges awaiting the player.

The comfortable Club House with its veranda overlooking the magnificent woodland was originally the old Manor House of Casal da Carregueira. Lisbon Sports Club also boasts an excellent swimming pool, three shale tennis courts, a driving range and a small practice area.
Contacts
Address:
Casal da Carregueira - Belas  2605-213 Belas
Telephone:
+351 21 431 00 77
Inauguration year
: 1922
Author/architect
: Hawtree #E_COMERCIAL#amp;amp; Sons
Professional length
: 5303 m
Men's championship length
: 4638 m
Number of holes in course
: 18
Par of the course
: 69
Clubs hire
Buggies
Trolleys
Electric trolleys
Individual lessons
Group lessons
Shops
Restaurant
Main events:
"Lisbon Cup"; Coronation Cup; Selby Cup; Taça VIII Centenário
Driving Range
Putting green
Chipping area
A new motorway (A16) can now be used for those who to reach "Lisbon Sports Club" coming from Cascais, Estoril and Sintra. Take A5 or IC19 to access the A16 and leave at junction 11 (Telhal / Vale-de-Lobos).Take the left exit at the roundabout, direction Vale-de-Lobos, and follow straight ahead. At the first junction turn right, direction Belas. After passing Belas Clube Campo, "Lisbon Sports Club" can be found on the first entrance on the right.
---