Angra do Heroísmo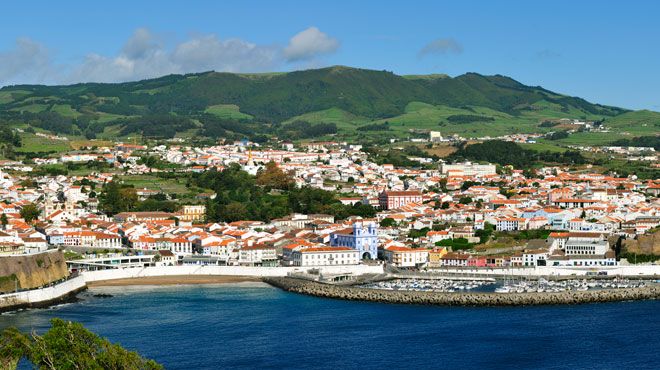 Angra do Heroísmo
Associated to the Discoveries during the fifteenth and sixteenth centuries, Angra do Heroismo is the example of the creation of a city closely linked to its maritime function and was an obligatory port of call of the fleets of Africa and the Indies. In 1983, UNESCO classified it as a World Heritage Site.
Stroll through the grid of streets reflecting the new world of brought by the Renaissance and that the Discoveries set in Angra, a city bathed by the Atlantic Ocean born for trade and navigation. Visit the dark walls of a powerful fortress designed to protect and dominate. Get to know the history told by its monuments, by the art treasures that it has cherished for centuries. These are three good reasons that will make turn your visit to Angra do Heroismo into a unique experience and a wonderful journey through time.
In the city, be sure to visit the Igreja do Santíssimo Salvador da Sé, or Sé de Angra (Cathedral), the Igreja da Misericórdia (Church), the Convent and Church of São Francisco, the Convent and Church of São Gonçalo, the Town Hall, the Palácio dos Capitães Generais (Palace), the Monument of Remembrance, the Castle of São Sebastião, the Castle of São João Baptista, the Angra Museum and Monte Brasil.
---