Castelo de Vide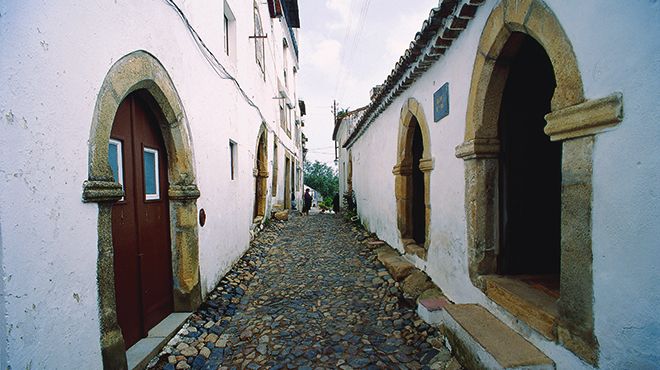 Castelo de Vide
The castle, surrounded by the town's white houses, dominates the surrounding landscape and is undoubtedly the first of many surprises encountered by the visitor. When seen from this high point, the Alentejo landscape is finally revealed in all of its great splendour. Small villages lost in the midst of the open countryside disappear from sight. Close by, roughly 20 km from Castelo de Vide, the hilltop town of Marvão can be seen and, a little further beyond this, it is possible to see over the Spanish border and deep into the heart of Spain itself.

On the northern slope, between the castle and the town's fountain, are a series of narrower streets which mark out the boundaries of the historical area known as the Judiaria (Jewish Quarter). The Jewish quarter in Castelo de Vide is one of the most important examples of the Jewish presence in Portugal, dating back to the time of D. Dinis in the thirteenth century. Here is to be found one of the best preserved Jewish areas in Portugal, and for some years now it has been part of a detailed plan for the recovery and revitalisation of local buildings. This area has one of the largest and most interesting collections of architecture from the Gothic period.

The best way to appreciate the town's peculiar mediaeval charm is to stroll at random up and down these steep, narrow streets.

But Castelo de Vide also has many other monuments that are well worth visiting. We are talking for example of the Capela do Salvador do Mundo, the oldest chapel in the region (dating from the end of the thirteenth century), whose interior is covered with panels of blue and white azulejos, or the Capela de São Roque, built in the fifteenth century and then rebuilt in the eighteenth century. But these are just two of the town's 24 churches.

If you still have both the time and the energy, you should climb the hill on the outskirts of Castelo de Vide, where you will find the Capela de Nossa Senhora da Penha and from where you can enjoy a totally different view of the town.

Castelo de Vide has always been known for its rich natural resources, particularly its hot springs, whose waters are said to have great healing properties. Several fountains can be found here, with the Fonte da Vila and the Fonte da Mealhada being perhaps the best known. Just one word of warning, however. If you believe in popular sayings, you should perhaps bear in mind that it is believed that anybody drinking water from the Fonte da Mealhada will one day return to Castelo de Vide to get married.
---