Rossio Hotel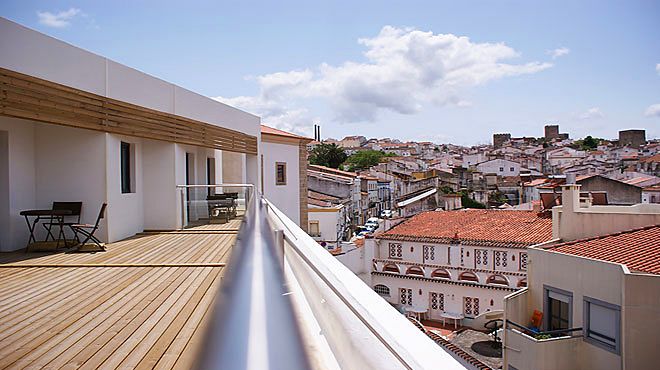 Rossio Hotel
Type of accommodation
Hotel accommodation
Category:
Hotel
Classification:
****
The Rossio Hotel is located right in the historic centre of the city of Portalegre, one of the most striking cities in the Northern Alentejo. Just a few minutes from the Portalegre Carpet Weaving Museum, the José Régio House Museum and the Serra de São Mamede Nature Park.
This project results from the desire to provide the best of the city and of its location, while at the same time paying tribute to the region and the Serra de São Mamede Nature Park, to ensure guests can experience a different side to the Alentejo.
Contacts
Address:
Rua 31 de Janeiro nº 6 7300-211 Portalegre
Telephone:
+351 245 082 218
Internet Access
Air conditioning
Central heating
Bar
Television room
Gymnasium
Reserved area for non-smokers
Number of beds
: 36
Number of rooms
: 17
Number of suites
: 1
Target price
: $$$ (60€ - 90€)
Internet access in room
Air conditioning in room
Steel safe in room
Mini-bar in room
Hair dryer in room
Heating in room
Telephone in room
Television in room
Breakfast timetable
: 07h30-10h30
Room service timetable
: 08h00-24h00
The Rossio Hotel is fitted with solar panels to supply hot water; photovoltaic cells for producing electricity, thus reducing electrical energy consumption; low energy LED lighting throughout the building; capture of rainwater for sanitary uses and for watering the garden. The Rossio Hotel is investing in official certification and has: Class A Energy Certification, Quality Certification, Environmental Certification and Food Safety Certification.



Registration No.
: 3425
---