Biblioteca Joanina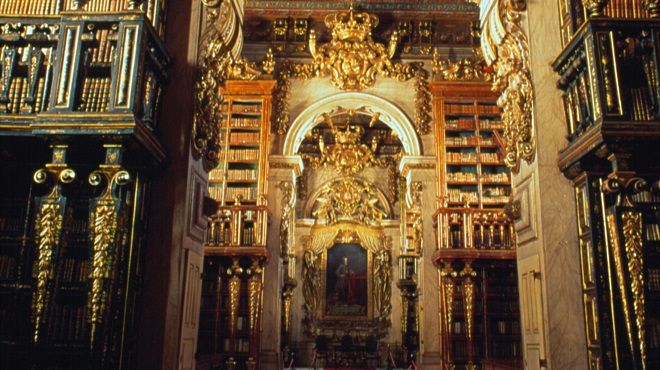 Biblioteca Joanina
Count Raczinski wrote about this library in "Les Arts au Portugal" in the following terms: «it is the most beautiful, most richly decorated library that I have ever seen». In fact, the beautiful and noble interior of this sumptuous space, built between 1717 and 1728, clearly expresses the generous spirit of its founding patron. Visitors are welcomed by the king's coat of arms above the great portico at the entrance.

Here, students and researchers may consult more than 300 thousand volumes dating from the 16th to the late 18th century, kept in the archives that cover three floors of the building.

Inside the library, the walls are covered with solid bookshelves made of exotic woods, composed of two sections, separated by a small balcony supported on columns. The painting and gilding of this wood was the work of Manuel da Silva. The main floor is divided into three rooms separated by arches that are identical to the one in the outer doorway, displaying the insignia of the old University faculties. The ceilings were painted with a trompe l´oeil effect by António Simões Ribeiro and Vicente Nunes, creating a false perspective and giving the illusion of a greater height.
On one of the walls at the back of the room, there is a large portrait of the founder, Dom João V, dated 1730.
Contacts
Address:
Universidade de Coimbra - Paço das Escolas 
3004-531 Coimbra
Telephone:
+351 239 859 800
Disabled access
Accessible route to the entrance:
Accessible entrance:
Reception area suitable for people with special needs
Accessible circulation inside:
---