Bragança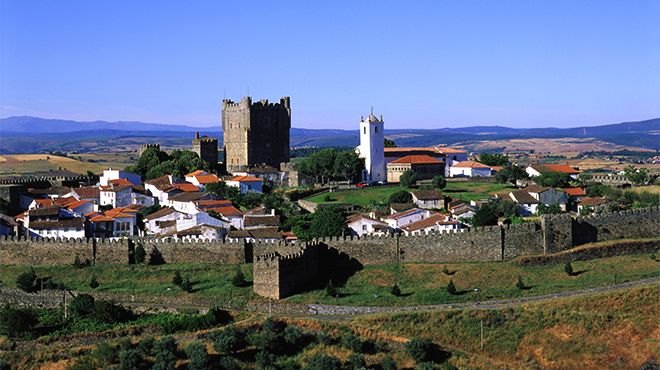 Bragança
A wander around the historical centre inevitably leads to the calm of the medieval citadel, the home to the Dukedom of Bragança.

As a recognised settlement, dates back to the 12th century. Fernão Mendes, a member of the Braganções family, and brother-in-law of the first king of Portugal, Afonso Henriques (1139-85) first established his residence here. Then, in 1187, king Sancho recognised the contribution of the town to regional development and granted it both legal autonomy and a charter. The medieval centre remains to this day and is characterised by the imposing Castle Keep, the Pelourinho (Pillory) resting on an unusual Lusitanian berrão (pre-historic granite pig), the Church of Santa Maria (Saint Mary) and the Domus Municipalis, a unique piece of architecture.

In 1442, the marriage of Afonso, the bastard son of king João I, to Beatriz de Alvim, the daughter of High Constable Nuno Álvares Pereira, resulted in the founding of the Dukedom of Bragança. The importance of this House is made perfectly clear by the fact they were simultaneously also the Dukes of Barcelos and Guimarães, the Marquises of Valença and Vila Viçosa, Counts of Ourém, Arraiolos, Neiva, Faro, Faria and Penafiel, and Lords of Monforte, Alegrete and Vila do Conde, among others. In 1640, the 8th Duke of Bragança, became king João IV, establishing the final Portuguese dynasty that would survive through to the founding of the Republic in 1910.

Beyond the walls, the city expanded to the west as can be seen by any short walk through its administrative and retail centre where noble residences and monuments still depict the history of Bragança's royal past. After king Manuel granted the New Charter in 1514, the city's development was largely due to the bishops who would reside here for half of the year. The Bishopdom was divided with Miranda do Douro before Bragança unified the bishop´s seat in 1764.

The royal and Episcopal influences characterising those times are reflected in the Church of São Vicente (St. Vincent), the Museum of Abade Baçal, the Chapel of Misericórdia, the Church of Santa Clara (Saint Claire) and finally in the Cathedral.

No visit to the city is complete without paying a visit to the nearby Church of Castro de Avelãs, or a wander through the Montesinho Natural Park, where there are still commune style villages that form part of the region´s heritage.
---