Igreja de Santa Maria de Marvila - Santarém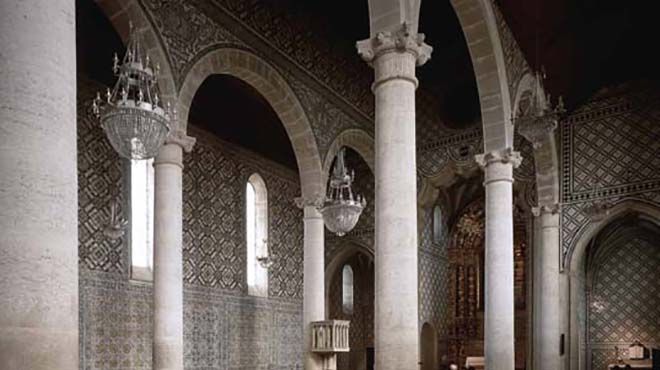 Igreja de Santa Maria de Marvila - Santarém
Situated in the historical centre of the city, this church belongs to one of the oldest parishes, having played an important role throughout the Middle Ages.

When he conquered the city in 1147, the first king of Portugal, D. Afonso Henriques, gave the Templars permission to found a church here, which they did with the rent paid to them by the Bishop of Lisbon, D. Gilberto, in 1149.

Later, in the 16th century, D. Manuel rebuilt and enriched this church by altering its structure and decoration. The most notable features of these changes are the doorway, the triumphal arch leading to the high altar and the extremely beautiful ribbed vaulting in the chancel. Also worthy of note are the royal details that can be spotted here and there and are part of our peculiarly Portuguese Manueline imagery: the armillary sphere, the Cross of the Order of Christ, the fleurs-de-lis and the coats of arms. In 1573, the general chapter of the Order of Christ, led by the king D. Sebastião, met here.

When you enter the church, its interior is immediately impressive because of its great size and the fact that its walls are completely covered in azulejo panels. It is a genuine school of the art of the azulejo, offering visitors the chance to admire the different variations in this decorative art throughout the 17th century.
Contacts
Address:
Largo de Marvila 
2000-090 Santarém
Telephone:
+351 243 325 552
Tuesday to Friday: 9.30am-12.30pm / 2pm-6pm; Saturday: 9.30am-12.30pm / 2pm-6.30pm; Sunday: 9.30am-12.30pm / 2pm-5.30pm.
Accessible circulation inside:
---