Centro de Educação Ambiental de Vale Gonçalinho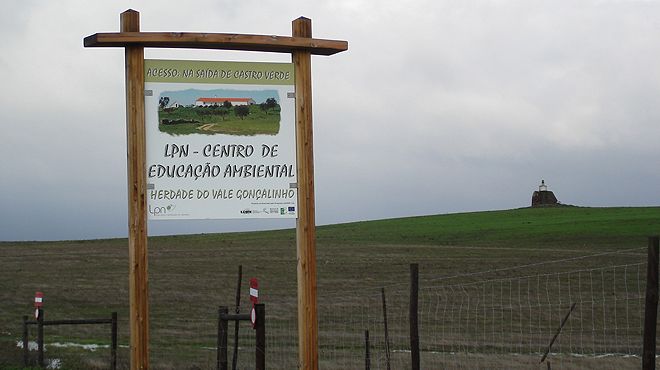 Centro de Educação Ambiental de Vale Gonçalinho
The Vale Gonçalinho Environmental Education Centre is the obligatory starting point for a visit to the Special Protection Zone for birds in Castro Verde, providing information on the region's natural heritage.

Known as the "Campo Branco" (White Field), this vast area of plains in Alentejo, has almost no trees, and is fully occupied by cereal production. In order to conciliate agriculture with bird conservation, the Nature Protection League has developed the "Sustainable Castro Verde" programme in an area of around 1,700 hectares where hunting is prohibited and where traditional agriculture is practised, respecting nature. This initiative has transformed the region of Castro Verde into one of the finest birdwatching zones in Portugal, where species that are protected worldwide can be seen frequently, such as the greater bustard, lesser kestrel and bittern.

In Vale Gonçalinho, visitors will find a series of didactic activities and information concerning the best trails in order to observe and photograph nature in the Special Protection Zone. The Environmental Education Centre also provides equipment for rent and a tour guide service. Inside the centre, visitors can see exhibitions of regional or environmental products, a documentation centre and a support area for technical experts carrying out scientific studies in this region.
Contacts
Herdade do Vale Gonçalinho - Apartado 84
7780 Castro Verde
Tel.:+351 286 328 309 / 968 523 648 - Fax: +351 286 328 309
Guided Tours
Signposted routes
---