Viseu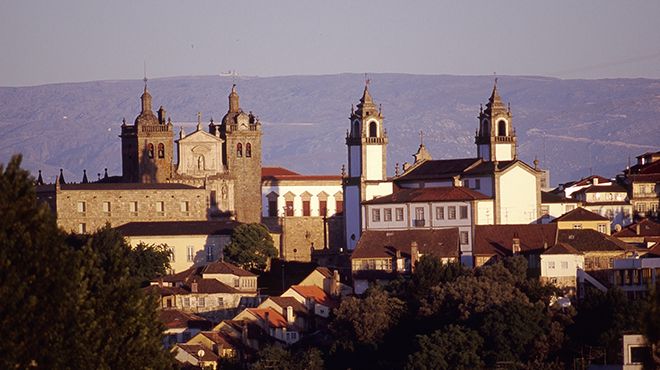 Viseu
According to some explanations, the city's name derived from the Roman term "viso", which means a good view, and in fact from its highest point, where the original settlement was formed in Roman times, Viseu offers its visitors some quite magnificent panoramic views.

One of the most interesting features remaining from this period is to be found in the city's outskirts and is known as the Cava de Viriato (an embankment which must date from between the second and the first century BC). This is the largest monument from this period in the Iberian Peninsula, although it has not yet been totally uncovered, and it is thought to have been a fortress where the remarkable warrior Viriatus, the chief of the Lusitanians and the heroic leader of the rebellion against Roman occupation, entrenched himself for defensive purposes. In the twelfth century, the city was granted a charter for a free fair, which is still held today in August and September. This is known as the Fair of São Mateus and is one of the city's main events.

The city has a number of green and leafy parks and is very cool and pleasant, yet it also preserves a rich heritage in terms of monuments, amongst which the highlights are the cathedral and the Misericórdia church.

It was in Viseu that one of the most important Portuguese artists was born in the sixteenth century, Vasco Fernandes, who came to be known as Grão Vasco (the Great Vasco) and founded an important school of painting here. Many of his own paintings can be admired in the local museum which bears his name.

Viseu is located in the centre of a demarcated wine region that has taken the name of the river passing through it - Dão. It is an area that produces reds and whites of exceptional quality, ideal accompaniments for the region's excellent cuisine, with a special mention being reserved for the roast veal cooked in the Lafões style.
---