Antiga Sé de Bragança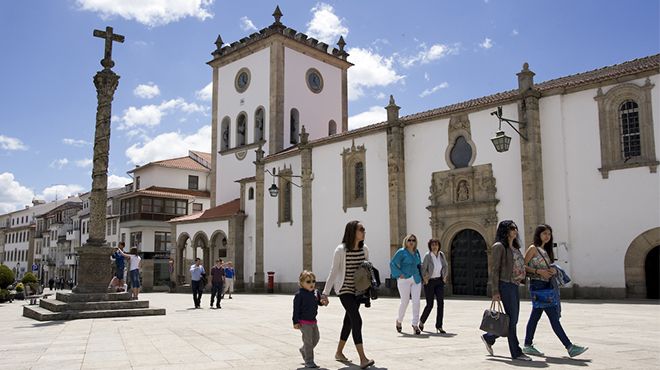 Antiga Sé de Bragança
The Cathedral was built in the 16th century on the wishes of the local authorities supported by duke Teodósio. It is known that Pêro de la Faia and Fernão Pires were the master craftsman in charge. It was due to be a Convent for the Order of Saint Claire but was subsequently taken over by the Company of Jesus between 1562 and 1759 and used as a college. In 1764, when the bishop´s seat was transferred from Miranda to Bragança, the church became the Cathedral and was substantially enlarged.

In architectural terms, there is the Renaissance doorway featuring certain Baroque aspects on the northern, lateral façade. In the centre, there is a niche with a statue of the Virgin of the Milk with Child. The interior is richly decorated featuring an 18th century triumphal arch bearing the city´s coat of arms with the carved gold-leafed main altar with lateral retables dating from the same period.

The 17th century sacristy is well worth a visit with an excellent chest of drawers finished with oil paintings depicting scenes from the lives of Saints Francis of Assisi and Ignatius. The painted ceiling also features Saint Ignatius. The two-floor Renaissance cloisters retain their original structure.
Contacts
Address:
Praça da Sé 
5300-265 Bragança
Telephone:
+351 273 329 182
Disabled access
Accessible route to the entrance:
Accessible entrance:
Reception area suitable for people with special needs
Accessible circulation inside:
Accessible information:
Support products/services available:
---
---