Basílica Santo Cristo de Outeiro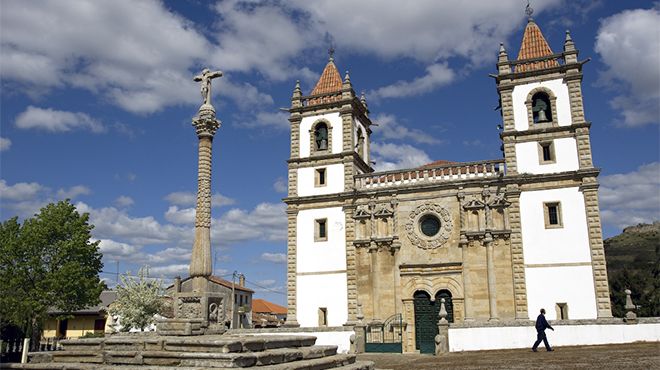 Basílica Santo Cristo de Outeiro
Santo Cristo de Outeiro Minor Basilica
Construction began in 1698 in the wake of a miracle that occurred in a small chapel next door and the Santo Cristo Sanctuary was completed in first half of the 18th century. Endowed with archaic characteristics in the middle of the baroque period, the façade of this marvellous church is flanked by two towers, its interior is a ribbed vault and its vestry is lined with eighteenth-century paintings. Its altarpieces include precious baroque wood carvings.
The church is one of the most valuable examples of architectural heritage in the district of Bragança, and has been listed as a National Monument since 1927.
Since 2014 it acquired the title of Minor basilica, attributed by the Congregation for Divine Worship and the Discipline of the Sacraments, in the name of the Holy Father, and which recognises the importance of the pastoral, liturgical and spiritual role of this church, its heritage and its architectural value.
There are eight basilicas in Portugal, all of which are located in cities apart from the one in Outeiro, which is the first basilica in a village.
It was the Bragança-Miranda diocese which proposed promoting it to a Basilica, in collaboration with the Portuguese Episcopal Conference, the Pastoral Council of the Diocese, the Brotherhood of Santo Cristo de Outeiro, Bragança Municipal Council, the Regional Department of Culture of the North, the Outeiro Parish Authority and a host of other people and institutions.
Contacts
Address:
Rua do Santo Cristo - Outeiro
5300-000 Bragança
Telephone:
+351 273 589 102
Disabled access
Accessible route to the entrance:
Accessible entrance:
Reception area suitable for people with special needs
Accessible circulation inside:
---
---