Campervanning
Campervanning
Discover Portugal by camper van/motorhome

Wandering around Portugal in a camper van or motorhome is a delightful way of discovering the amazing variety of landscapes in our country. You can get to know the entire territory with more freedom, at your own pace and in safety.
To get the most from this kind of trip, you must respect the rules operating in each place; don't stay in illegal or unlicensed places or in unofficial parking lots where the conditions might not be safe and comfortable, and you could be subject to action from the authorities.
You should also show the greatest civic awareness for the community that welcomes you, and for nature, respecting the space of others, so don't make too much noise, and do leave the site as you found it.

Photo: Parque Natural do Vale do Guadiana - Mértola © RR - TdP


Service Areas for motorhomes
There are motorhome service areas spread around the country, to support you during your trip. They have an overnight stay area (limited to 72 hours) and service stations with facilities that include drinking water supply point(s), and places to dump dirty water and the waste from chemical toilets, as well as solid waste. These areas could also have electricity power points for charging the batteries of camper vans and motorhomes.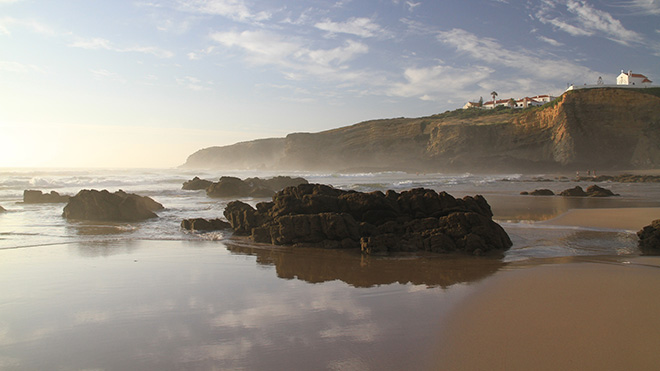 Photo: Zambujeira do Mar © Shutterstock - Francisco Caravana

Camping and Caravanning Sites
For camping you'll find a huge network of Camping and Caravanning sites spread all around the country, and equipped with all the facilities and services you need during your stay. Here you can search by region and locality.

For specific information about the Algarve region please visit https://autocaravanalgarve.com
---