Can'T Skip Tomorrow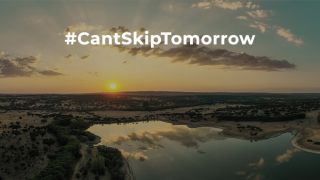 Hello World! It's me, Tomorrow.

Looking back, we've been through a lot together, ups and downs. But those moments make us stronger.

Lately, I've been thinking that we're different, but somehow we have a lot in common.

We are surrounded by water and waves. We honour history and value our cultural heritage. And nature? A monument that cannot be exhausted. This is the time to invest more in it and to embark on a journey and a tourism for the good of the planet.

To continue giving us the lakes and rocky islands, the mountains, the plains, the endless landscapes, the different cultures, the art and the flavours. To travel again with the luggage full of a child amazement.

This is the time to rebalance the scale. The purity to which we must return to rediscover a new way of travelling and flying with our feet firmly on the ground.

I look forward to the next chapter in our history. Because we will meet soon.

Tomorrow is Today. Act Today, change Tomorrow.
For a better Planet, a better tourism. Travel better, Visit Portugal.
---