A Casa do Tio Tenente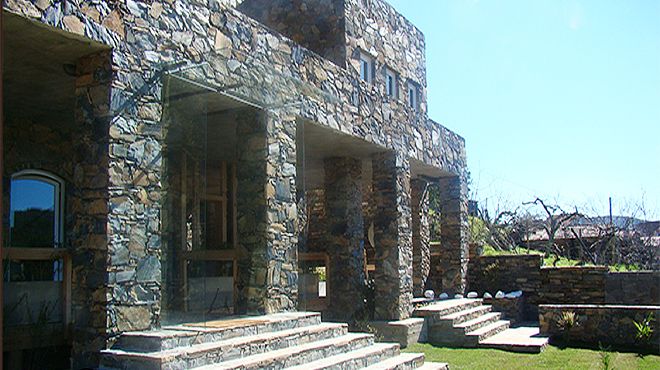 A Casa do Tio Tenente
Type of accommodation
Tourism in a Manor House
A recovered space, which press for perpetuating the memory of a beloved and respected in the village of Castanheira Summit person , José Alves Pereira, better known as " Uncle Tenente."
This property was built in the late nineteenth century by "Uncle Tenente" and was distinguished from all others in the village of Castanheira Cimeira for having a roof in inverted format , from also being designated by the " House of the three nozzles ." Its privileged geographical, location of nearby Sierra Picoto Rainho, 5 min from the river beach " O Malhadal " as well as the use of local materials in their reconstruction ( schist stone and pine wood ) make this unique and distinctive home. The exterior of the building is coated with closed shale rock and stones together varnished with transparent varnish, to keep the color of the stones are just like in nature.

The inside it is all pine (floors, walls and ceilings). This inner wood is protected with a transparent and flame retardant aqueous varnish to keep the wood to its most natural color possible.

On the technical side, we highlight the walls very thick (80 cm) box with air- stone, insulation, new air -box and wood. On floors and ceilings, also thermal insulation for improved comfort were used. A heating system, underfloor, heated by a gas boiler that has the support of solar panels was implemented. The hot water follow the same principle. The property also features a wood burning fireplace and a wood stove , cooker, this one features a water boiler , that when in use helps the water heating underfloor want to want to sanitary water.

The property consists of six suites, all on the shower and dressing area. Two of them feature a large terrace. The décor is simple, all beds with mattress duvet and feather bed linens of good quality. Pine wardrobe without doors, for better visualization, the tidy/untidy parts.

It also has a living room, a dining room, a games room, two large leisure areas covered and airy, a garden and private parking for guests' cars.

Contacts
Address:
Castanheira Cimeira
6100-385 Ermida / Sertã
Telephone:
+351 274 685 106 / 965 650 030 / 966 382 320 / 916 284 513
Number of beds
: 7
Number of suites
: 6
Number of rooms
: 6
Double rooms with toilet
: 1
Single rooms with toilet
: 5
Reserved area for non-smokers
Baby Sitting
Baby-care facilities
Pets allowed
Internet Access
Currency exchange
Games room
Television room
Internet access in room
Air conditioning in room
Heating in room
Hair dryer in room
Television in room
Clean&Safe – The Clean&Safe stam confirms that the hotel or other tourism establishment is compliant with hygiene and cleaning requirements for the prevention and control of Covid-19 as recommended by the DGS - Directorate-General for Health. More information at www.visitportugal.com/en/node/422183.
Registration No.
: 4395
---