In the country of tiles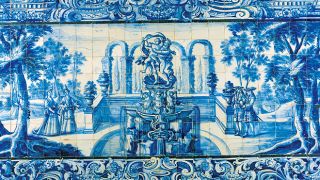 You can't miss them, wherever you are in Portugal. Tiles travel across all-time styles and languages and fill any pavement or visit with colour.

Al-zuleique is the Arabic word that became the Portuguese azulejo (tile) and referred to the "small, smooth stone" used by Muslims in the Middle Ages. Their use of tiles to decorate floors and walls pleased the Portuguese Kings and subsequently won pride of place in architecture from the 15th century. We could say that Portugal adopted them in an unparalleled way, like no other European country.

It was in the 18th century that tiles "invaded" churches and convents, palaces and homes, gardens, fountains and staircases. With geometric patterns, telling the life stories of saints or depicting profane themes, such as La Fontaine's fables, sometimes with captions like an old version of a cartoon, they became one of the main features of Portuguese decoration.

Travelling across the country is like visiting a living museum of tiles, but it is in the National Tile Museum in Lisbon that you can get to know, like nowhere else, their history and artistic and technical evolution, from early times to modern-day production.
Take the opportunity to visit the Madre de Deus Museum and Convent through exhibitions and virtual visits here and here.
Tiles are still used in the 21st century by the most avant-garde trends as a key feature of civic art.

It would be hard to list all the places where you can admire them, but it's worth mentioning a few, where they were applied in a systematic or original fashion. The Lisbon Metro Stations are all lined with tiles, with works by Portuguese artists such as Vieira da Silva and Júlio Pomar. This style gained international acclaim, and can also be seen in works of art in metro stations in Brussels (Jardin Botanique), Paris (Champs Élysées/Clémenceau), Budapest (Deák Tér), Moscow (Belourusskaya) and Sydney (Martin Place).

All over the country, you will be surprised by tile panels in old railway stations, mostly with references to customs, traditions and landscapes of their surrounding regions. One of the most remarkable is in São Bento Station, in Porto.

In Aveiro, its use in Art Nouveau style buildings in the city centre is historical. One of the most renowned 19th century Portuguese ceramists, Rafael Bordalo Pinheiro, chose to make them more expressive and created patterns depicting insects and plants. You can see them, for example, in Lisbon, at the museum named after him, the Rafael Bordalo Pinheiro Museum.

In Sintra, amongst a World Heritage, you can admire a genuine display of tile craftsmanship over the centuries at the Palácio da Vila, so close to the heart of the former kings who lived there.

The Church of São Lourenço [Igreja de São Lourenço], in Almancil, is a perfect example of complete tile lining (on walls and ceiling) in the Portuguese Baroque style, and also a must-see visit of the Algarve's historical heritage.

But these objects can live beyond memories and photographs. In a more classic or a more modern version, individually or set on a panel, they will undoubtedly be a good souvenir of Portugal to take home or give a friend.
---