Diving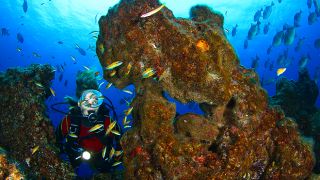 The Portuguese coast is stunningly beautiful on the surface, but the depths of the Atlantic offer a wealth of biodiversity that is well worth discovering.

Portugal's seas can offer a fantastic surprise for those who don't know them, due to the diversity of fish, the beauty of the sea bed and the wrecks of ships which have crossed the ocean over the centuries. There are many attractions to explore both near the surface and deeper down, in caves and rocky recesses with diverse habitats.

There are safe diving programmes and excursions in place all over the country. Even for complete beginners, there are "baptisms" and courses for all levels, covering techniques and the rules to be respected. For more experienced divers, operators organise outings to places with the most potential and also hire all the necessary equipment.

The Azores are particularly attractive as a scuba diving destination due to their clear, deep and unpolluted waters. Several islands provide facilities and have companies geared towards this activity, suggesting the best ways to enjoy these exceptionally beautiful seabeds. The same is true of the Madeira archipelago, where the sea has a pleasant temperature all year round, and the underwater world teems with a widely diverse and rich life.

On mainland Portugal, Peniche, despite the cold seawaters, is a popular diving destination to discover the flora and fauna which populate the Berlengas Islands. Close to the Arrábida Natural Park, Sesimbra is another place much sought after by divers. Further south, the Alentejo coast and the entire Algarve coast offer diving locations teeming with diverse, colourful sea life. There is much to explore underwater in Portugal.
---