Portuguese School of the Equestrian Art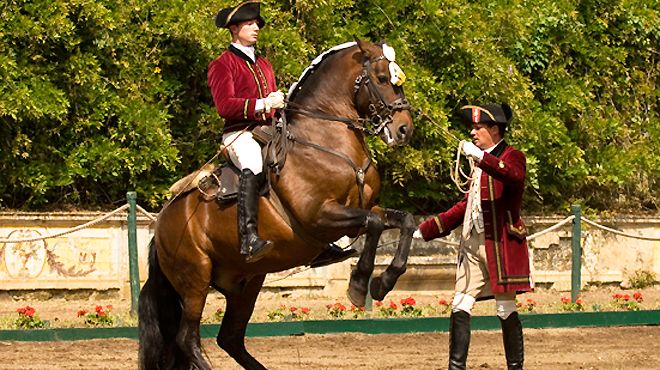 Portuguese School of the Equestrian Art
The Portuguese School of the Equestrian Art was the successor of the former Picaria Real, the riding school of the Portuguese Royal Court, which was closed in the 19th century. What has remained from those times is the special horsemanship and the tradition of bullfighting on horseback, with the horsemen still riding the same type of horses as were used in the 18th century, with the same saddles and costumes, resulting in an equestrian heritage that is unique in the world.

Equestrian Shows
The Portuguese School of Equestrian Art (EPAE) stages regular performances at the Henrique Calado Riding Hall (located on Calçada da Ajuda, in Belém), where training sessions are also open to the general public.

A visit to the Henrique Calado Riding Hall provides an opportunity to travel back through Portuguese history, experiencing the moments that perpetuated the beauty of the Lusitano horses from the Alter Real Stud Farm, founded by King D. João V in 1748. This breed has been used in classical dressage since the 18th century, performing classical dressage exercises alongside those from the Baroque period and the exercises making up the Court Games (tournaments held between the 16th and 19th centuries to commemorate festive occasions). The experience is further enriched by the costumes, saddles and harnesses worn by riders and horses, whether the normal working versions used for daily training, or the gala versions worn for weekly presentations and gala performances, since they are identical to those in use in the earliest days of Portuguese Equestrian Art.

Daily training sessions
Morning sessions are open to the public and showcase the daily work done by the riders at the EPAE to train and prepare horses of different ages for the School's performances. In these training sessions, the riders wear normal working clothes. These sessions are open to individuals and groups of visitors, including school parties.

Weekly presentations
Ballet-style performances set to music and featuring presentations of classical dressage exercises and choreographies by EPAE riders and horses. The riders wear gala costume and use traditional Portuguese saddles and harnesses. Each presentation lasts approximately 45 minutes.

Gala performances
These performances last around 90 minutes and include such feats as the "airs above the ground", equestrian exercises characteristic of the Baroque period, along with Court Games, the tournaments held between the 16th and 19th centuries to commemorate festive occasions. The performances are accompanied by lighting and sound effects that serve to enrich the choreography and the ambience.
Contacts
Address:
Palácio Nacional de Queluz
Telephone:
+351 21 923 73 00
---