Faro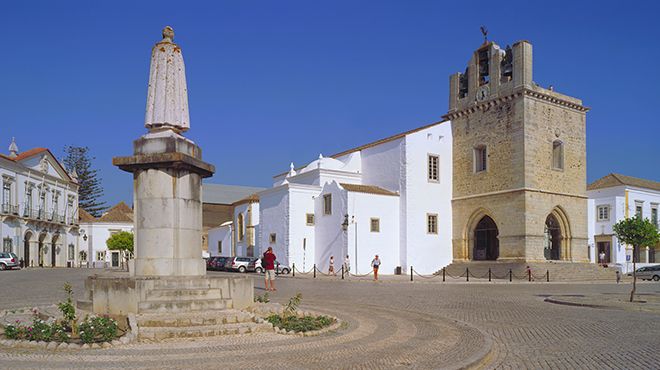 Faro
Faro
Its geographical position meant that in the 4th century BC, a colony of Phoenicians settled there, becoming an important trading post based on the exchange of agricultural products and fish. Between the 2nd and 8th centuries BC, called Civitas Ossobonensis, it remained under Roman rule and developed in industrial terms.
When it was taken by the Moors in 713, Ukxûnuba (Arabic transcription of its Latin name Ossonoba), prolonged its status as a port city of relevant regional importance, rivalled only by Silves. The current urban layout of the city still allows us to see the perimeter walls that protected it, the original idea of which is due to Ben Bekr, a Muslim prince of the 9th century, the nucleus currently known as Vila-Adentro.
The Arab Gate (Porta Árabe) also dates from Islamic times, which was the entrance to the city for those arriving by sea. It is considered a unique example of Arab architecture in Portugal, given the good state of conservation and the fact that it is still in its original location, and that we can still see inside the Village Arch (Arco da Vila).
Vila-Adentro was definitively conquered by the Christians in 1249, during the reign of King Afonso III of Portugal. The See Cathedral was then built on the site of the old Mosque and the walls were reinforced, signs of the new domain.
Faro remained for centuries as an important commercial centre in the Algarve and in 1540 it was elevated to the status of city, thus becoming the seat of a bishopric, until then in Silves. Most of the religious monuments, also reflecting its economic wealth, date from this period, as is the case of the Misericórdia Church (Igreja da Misericórdia), the Convents of Saint Francis (Convento de São Francisco), Assumption of Mary (Convento de Nossa Senhora da Assunção) (adapted to become the Infante D. Henrique Archaeological Museum), James, The Great (Convento de Santiago Maior) and Saint Anthony of the Capuchins (Convento de Santo António dos Capuchos).
In the 19th century Faro, which had an administrative reorganisation centralising the regional powers, became one of the most important cities of the Algarve. Nobility and bourgeoisie had their palatial houses built, as well as their second homes in the surroundings, of which the impressive Estoi Palace (Palácio de Estoi) stands out.
On the outskirts of the city, in addition to the architectural heritage already mentioned, it is worth highlighting the beauty of the Ria Formosa Natural Park (Parque Natural da Ria Formosa).
---