Festa das Cruzes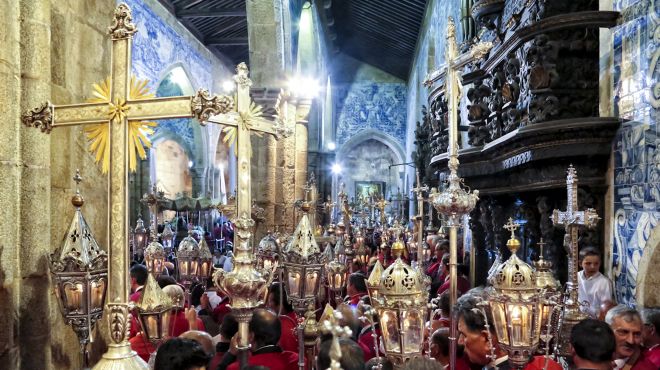 Festa das Cruzes
In the beginning of May, the festivity of the crosses in Barcelos is the first annual great pilgrimage in the Alto Minho region.

The town of Barcelos is filled with joy, as seen in the gestures, voices, dances, songs, traditional swirling dances of the "vira", "chula" and "malhão". The event provides a glimpse of the history, traditions, uses and customs in the Minho region. The city awakes to the sound of fireworks, "zabumbas" (tambourines) and bagpipes that announce the animated festivities to come.

The main procession to the Senhor da Cruz takes place on May 3. This is the highlight of the festivities, but the event also includes flower carpets, folklore, an academic procession, a social gathering and a fireworks display (fixed, in the air or in the river), Philharmonic orchestras and Zés Pereiras drumming groups.

Make sure to visit the huge "Fair of the Crosses" (Feira das Cruzes), where all roads lead to the main public square where the fair is held. An 18th-century Fountain divides the square, that is transformed into a colourful social gathering, where everything is on offer: fresh vegetables, gold and silver articles with slip knots and earrings, fine and rough basketwork, typical pottery from Barcelos, ironware, furniture, clothing and footwear, food and drinks.

Don't miss the unique flavours and speciality of this great festivity in the Minho region!
Start Date:
28 April 2023
End Date:
03 May 2023
Contacts
---
---