Hotel D. Luís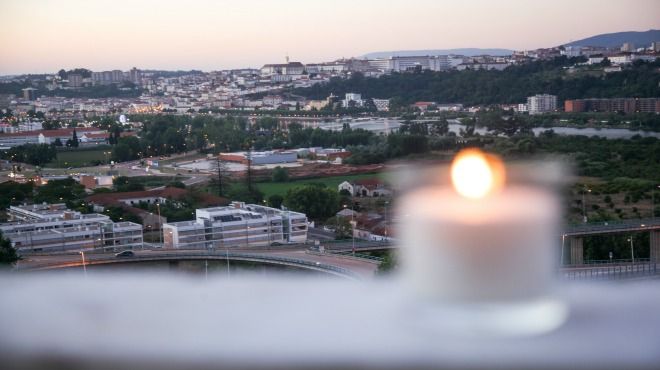 Hotel D. Luís
Type of accommodation
Hotel accommodation
Category:
Hotel
Classification:
***
Hotel D. Luis is located near downtown Coimbra, in a quiet area with stunning views of the city, the Mondego River and the University of Coimbra.
Inaugurated in 1988 and in keeping with a classic and functional style, it combines a family atmosphere and personalized service that distinguish it from other hotels.
With areas worthy of a 4-star hotel and adapted to the new technologies, Hotel D. Luis provides comfort both in pleasure trips and business trips. Access to the WIFI network is available at no additional cost throughout the hotel.
Its excellent location allows its customers to be near the town centre and simultaneously enjoy its calm atmosphere, without having to worry about parking.
At sunset, the gardens of the hotel induce to walks that will transport your imagination to another time, because wherever you look you can contemplate one of the oldest cities in Europe.
In the Panorama restaurant you will have the privilege of tasting the most exquisite foods of the city
and enjoying the best views of Coimbra. The bar, with a varied list of cocktails and appetizers, is the ideal place to relax after a day in the city.
Hotel D. Luis rooms and services are also ideal for meetings, for it has 5 rooms provided with the newest technology, perfect for hosting meetings, conferences, wedding receptions or dinners for special occasions, making it the ideal complement for the many events that take place in Coimbra, the University and the hospitals.

Contacts
Address:
Quinta da Várzea - Santa Clara - 3040-091 Coimbra
Telephone:
+351 239 802 120
Internet Access
Air conditioning
Central heating
Restaurant
Bar
Games room
Television room
Reserved area for non-smokers
Number of beds
: 200
Number of rooms
: 102
Number of suites
: 2
Target price
: $$$ (60€ - 90€)
Internet access in room
Air conditioning in room
Steel safe in room
Hair dryer in room
Heating in room
Telephone in room
Television in room
Breakfast timetable
: 07:30AM till 10:00AM
Buses
Train stations
Outdoor parking
Bike rental free; welcome drink free; parking place free; Internet wireless in all areas of the hotel; Safe (when not available in the room, is free at the reception); Some rooms with view over the city of Coimbra; 10 rooms with king size beds; Alarm detection



Registration No.
: 917
---